CEO of Hospice & Palliative Care Buffalo on his new book about dying, and on the 'traumatic' experience of separating end-of-life patients from their families due to COVID-19
By Michael J. Billoni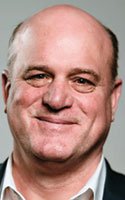 Physician Christopher Kerr joined Hospice Buffalo in 1999 as its medical director and served in that capacity until 2011, when he was appointed chief executive officer and chief medical officer of the Hospice & Palliative Care Buffalo.
Born and raised in Toronto, Canada, Kerr is a fifth-generation physician. He earned an undergraduate degree in psychology, a doctorate in medicine and a Ph.D. in neurobiology. He completed his residency in internal medicine at the University of Rochester. A recipient of numerous awards for his clinical performance as well as his success as an educator and scientist, he is also an author recently completing the book, "Death is But a Dream."
He has also overseen the integration and expansion of palliative care into local hospitals and developed one of the nation's largest home-based palliative care programs, Home Connections, and Essential Care for Children. The Buffalo Center for Hospice and Palliative Care has 400 employees and annual budget of $43 million.
Q: How has the COVID-19 pandemic affected the way the Buffalo Center for Hospice and Palliative Care cares for its patients?
A: It has been traumatic. Those suffering, particularly at end of life, what they need most is to be connected to those they love. The pandemic has caused us to take something as challenging as the dying process and we have been forced to make it more complicated by separating people when they need to be brought together. Dying is inherently lonely and we have now made it more so. Because of this pandemic dying has been made more difficult and suffering greater and not just for the patient but also for their family.
Q: What has it been like for patients to not be surrounded by family at this time?
A: It has been extremely harmful to people who are demented and cannot process all of this. They feel they have purposefully been abandoned. When you think about your closing of life and that is your perceived reality, it just does not get any worse. One of our best roles here is to bring people into our inpatient unit and we are allowed two visitors at a time during this pandemic. That has allowed families to reunite. The depths of this pandemic are horrendous. Our staff has been courageous through all of this and like so many in health care, they are the heroes behind the masks.
Q: What makes your staff so special in working with these patients?
A: What is unique here is we allow our staff the time and space to do their jobs. This is very hard work and it is easy to extinguish the flames which brought people to this profession, but we allow them to know their patients as people as they care for them here or in their homes. They care for them in the context of their families. Our model is compassion, rich in its delivery and we have very special people who do this work.
Q: In your book, "Death is But a Dream," was there some surprising finds in your research of the dreams of the dying?
A: When we asked people questions every day leading up to death, nearly 90% were experiencing one kind of an inner experience. In a way the experience had a way of putting them back together by bringing them back to the best parts of the life they lived. It was very therapeutic for them and it showed how dying was a paradox – physically diminishing but inside, they are very much alive. We found this lessened their fear of death.
Q: You state in many ways we have lost our way in dealing with dying as it is easier now to live longer than to die well. What were some of those dreams like from patients who had a tough time dying?
A: We found 15% of those we studied had distressing themes to their dreams. You die as you live and what we found most fascinating is that those patients were most transformational in that it led to some form of reconciliation and atonement.
Q: What were some of the common themes you discovered in your research about dreams?
A: Most common was the notion of these patients being reacquainted with those they had loved, or they had lost and there was not a randomness to their dreams.
For more information about Hospice Buffalo, visit www.hospicebuffalo.com. For more information about Kerr's book "Death is But a Dream" go to www.drchristopherkerr.com.