CEO of nonprofit Crisis Services says one in five people in WNY lives with a mental illness, but doesn't report because of stigma
By Michael J. Billoni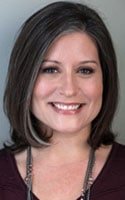 Jessica C. Pirro in 2014 became the first woman appointed chief executive officer of Crisis Services and has led the agency's first responders in helping those impacted by crisis with specialty areas focused on suicide prevention, emergency mental health, trauma, domestic violence, rape and elder abuse.
Under her leadership, the agency has seen significant staff and financial growth as its annual budget is $6.6 million with more than 100 employees.
A licensed social worker, Pirro moved to Buffalo in 1997 to establish the domestic violence unit for Erie County under the direction of the Wellstone/Murray Amendment Family Violence Option before working at Crisis Services in 1999 as the supervising counselor of the advocate program, the state's Department of Health Rape Crisis Center.
She became a coordinator in 2001 and five years later was promoted to associate director charged with overseeing all agency operations 24 hours a day.
Q: Since Suicide Prevention and Crisis Services began in 1968, has this pandemic led to an overwhelming number of inquiries for a 10-month period?
A: "Crisis Services history proves we will always be here for our community 24-hours a day. As this pandemic unfolded, we saw our role highlighted even more to help existing and new clients impacted by this community trauma causing uncertainty, loss and stress. Our mission is to be there for anyone in crisis. Our team's commitment, dedication and determination made sure our presence was seamless while diligently working to guarantee safety for our crisis first responders. Through this COVID experience we saw an increase in attention and encouragement to care for our mental health. As a result, we saw an increase of new callers and clients reaching out for help during this uncertain time."
Q: Describe the Emergency Mobile Outreach Program?
A: "Our Emergency Mobile Outreach Program has provided emergency mental health evaluations for individuals at risk of psychiatric hospitalization since it began in 1980. This service extends our crisis response from the call to our hotline to face to face response and intervention for our community members in a mental health crisis. Referrals are received from a variety of sources, including family members, mental health clinics, doctors or the individual themselves. In addition, 15% of referrals into this program come from law enforcement officers in Erie County. Our goal is to divert individuals from unnecessary presentations at local psychiatric emergency rooms, as well as divert individuals away from law enforcement involvement."
Q. How many calls does the 24-hour hotline receive monthly and how many calls does the kids helpline receive?
A. "Crisis Services manages multiple 24-hour hotlines servicing various crisis situations including suicide, addiction, domestic violence, sexual violence and trauma. In 2020, Crisis Services responded to 77,197 crisis calls; 13,595 NYS Domestic & Sexual Violence Hotline and Erie County Domestic Violence Helpline calls; 350 Kids Helpline Calls; and 896 Addiction Hotline calls. Our advocate team provided intervention and support to 735 domestic and sexual violence victims at area hospitals."
Q. Have the number of suicides increased in WNY and how young is it reaching? How concerned are you with these numbers?
A. "Buffalo and Erie County has seen a decrease in suicide deaths over the last several years. As the suicide prevention, intervention and postvention provider accredited by the American Association of Suicidology, our crisis response is to help keep people safe and save lives. In addition to our hotline and Mobile Outreach services we manage the Suicide Prevention Coalition for Erie County and the Suicide Fatality Review Team Project to bring awareness, significant training on suicide and work to understand the stories of those we have lost to help prevent future suicide deaths."
Q. How big of an issue is domestic, elder and sexual violence in WNY?
A. "Crisis Services receives calls daily from community members impacted by domestic violence, sexual violence and elder abuse. Our advocate department is the designate Rape Crisis Center for Erie County and NYS approved domestic violence service provider. It provides numerous services responding to those impacted by these traumatic incidents to help them find safety, help and hope. Intimate partner and gender violence is an issue in our community that is underreported due to shame, stigma and concern for safety."
Q. How can the public help decrease the number of suicides and domestic violence numbers in WNY?
A. "If you see something, step up, reach out, offer support. We want to encourage at all times, but especially during the pandemic for the community of good neighbors, to continue being there for each other. Our trained emergency first responders are available 24/7 and we want the community to know that they are not alone."
Q. How much of an issue are the stigmas associated with mental illnesses?
A. "One in five people in WNY live with a mental illness. Because of stigma it can take up to 10 years for someone to seek help. Our community works diligently to reduce stigma and increase access to help and support. Crisis Services is proud to be a founding member of the Anti-Stigma Coalition whose main purpose is to reduce stigma and increase access for help.
For more information, visit its website: www.crisisservices.org