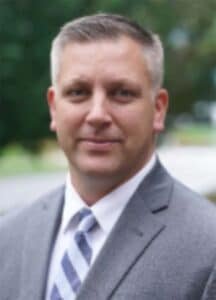 Roswell Park Comprehensive Cancer Center's Andrew Ray, a rehabilitation specialist, associate professor of oncology in cancer prevention and control, has been recognized by APTA Oncology with the organization's 2021 Research Award for enduring and outstanding work in oncologic physical therapy.
APTA Oncology, an Academy of the American Physical Therapy Association, is a national group of professionals dedicated to managing the rehabilitative needs of cancer patients and survivors. Research Award recipients have demonstrated "meaningful contribution" to the profession through their studies. The Research Award was presented during APTA's Combined Sections Meeting Feb. 4.
Ray's research interests include respiratory muscle training, helping to strengthen breathing muscles that may be weakened from disease and surgery. He is currently working on a study funded by a five-year, $3 million R01 grant from the National Cancer Institute in which lung cancer patients participate in both physical and respiratory therapy before undergoing surgery, to prevent pulmonary complications after surgery.
"Fueled by a personal connection to cancer, Dr. Ray deeply cares about the physical well-being and outcomes of our patients," said Christine Ambrosone, PhD, chairwoman of the department of cancer prevention and control at Roswell Park.
"We are thrilled to see his research be recognized on a national level."
Ray earned his doctorate and physical therapy degrees from the University at Buffalo. In addition to APTA, he is a member of the American College of Sports Medicine and the National Strength and Conditioning Association.