Eye tests on the go during the pandemic. Director of glaucoma services at the Ross Eye Institute talks about her drive-thru glaucoma pressure screenings for patients at risk of vision loss
By Chris Motola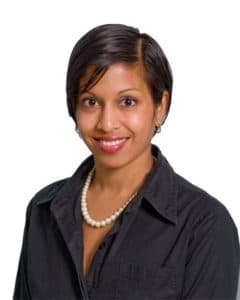 Q: You've been administering glaucoma tests through the lockdown. How have you gone about it?
A: As a field, ophthalmologists can see patients through telehealth. With glaucoma, a large part of the examination for the disease is checking eye pressure, and that's something we can't do [with telehealth]. So we developed a clinic where patients could drive up to our front door and have their pressure checked with a handheld device. We also take a look at their eyes with a handheld microscope and talk to them and refill their medications, if necessary. If it looks like they're having a problem, then they are invited to come inside and have a full appointment. So far we've only had to do that once.
Q: How quickly are you able to see patients this way?
A: We were able in our past two clinics to see 12 patients within an hour and 20 minutes. So just about every 10 minutes, without any patients accumulating in a car line. It was enough time to have a patient come, drive up and do all those things in matter of minutes. In terms of exposure, I am wearing a mask and gloves. The gloves I change between every patient. Also the tip of the device used to touch the eye and check pressure is a disposable piston-like tip. That's the only real contact with have with the patient. We don't even need to administer eye drops to check the pressure like we would with the other types of checks we do in the office. This device is called iCare; it's very convenient in situations where we're trying to minimize contact.
Q: With how convenient it is, are there drawbacks compared to the other tests?
A: It doesn't replace coming into the office to do the normal testing to monitor the progression of glaucoma. Checking the pressure is just one piece of the puzzle when we're looking at whether the disease is stable or progressing. We are able to, in the drive-thru clinic, look at their last note and see what they're due for and schedule appointments for testing. But actually looking at the optic nerve and checking peripheral vision really require them to come inside. The patients are pretty aware that just checking the pressure and doing an examination in their car isn't a substitute for coming into the office, but it's pretty reassuring to be able to make sure patients are taking their medications and patients are getting their refills and making sure they don't get lost in the shuffle in the enormous mass of patients who had to be scheduled due to the pandemic.
Q: With the lockdowns starting to lift, do you see this model having long-term potential?
A: Yes, I do, absolutely. When I heard it was being done in another state, I had my skepticism about it, because I didn't know that it was going to work as smoothly as it has been working. I do think that, even when all the restrictions have been lifted on offices, there are still going to be a large number of patients who are reluctant to come into the office and wait in a room with other patients. I see this model working through the summer. Of course, we live in Buffalo, so bad weather will prevent us from doing it all year round unless we devise some kind of high-falutin heating tent or something like that. But certainly through the summer, I see myself doing this once or twice a month through at least September, because I don't see people rushing back to the office right away.
Q: How about after things completely normalize, assuming they do?
A: Definitely. I mean, it would be nice to have it all year round. In my practice, as a rule, I usually don't have patients come in just to have their pressure checked, which is what that is, not diagnostic testing. It's still not going to replace a full examination. But let's say we started a patient on a new drop and we wanted to follow up a month later and see if it was working. This could potentially work as an option there. In terms of how accurate the handheld, the iCare, is, it's comparable to in-office methods, but it's not the gold standard. So it would be for follow-up patients, not new patients. This is not a great platform for seeing new patients. But for follow-up, weather permitting, it's something I'd like to see carried forward.
Q: Why is it important to regularly check pressure with glaucoma? How quickly does the disease progress?
A: Everybody's different. Glaucoma is sometimes called the silently blinding disease because patients who are untreated may start losing peripheral vision slowly and it starts to close in like a telescope, taking the central vision away in the final stages. So very often that early peripheral vision loss goes unnoticed. That's just a general statement. There are different types of glaucoma that may affect the central vision earlier. But overall it's a slow-moving disease. If your pressure is very out of control, you can lose vision in a matter of weeks to months, but generally it's over the course of years.
---
Lifelines
Name: Sandra Sieminski, M.D.
Position: A glaucoma and cataract specialist, she is the director of glaucoma services at the Ross Eye Institute at UBMD. She also serves as the clinical vice chairwoman of the department of ophthalmology and the ophthalmology for the Jacobs School of Medicine and Biomedical Sciences. 
Hometown: Erie, Pennsylvania
Education: University of Pittsburgh (MD); Washington Hospital Center, Washington, DC (internship); Georgetown University, Washington, DC (residency); New York Eye and Ear Infirmary, New York City (fellowship)
Affiliations: Erie County Medical Center
Organizations: American Academy of Ophthalmology,  American Glaucoma Society
Family: Husband (Mark); two children
Hobbies: Running, traveling, skiing, gardening, art