Hospital offers myriad services for young patients
By Deborah Jeanne Sergeant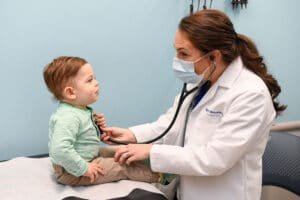 As with many other healthcare organizations, Oishei Children's Hospital had to shift to how it delivered care last year as the pandemic curtailed numerous aspects of everyday life.
"Telemedicine has been a big part of how we provide services," said Allegra Jaros, president of Oishei. "Where we've seen that serve our patients well is in behavioral health services. Virtually all of our services are through telemedicine."
Mental healthcare has unique barriers to care, including too few providers, stigma surrounding care and location, as many people live a good distance from providers. Telehealth addresses each of those concerns. Without driving into the office, providers can see more patients. Telehealth can increase privacy for patients. Since distance does not matter, those living in remote locations or with visits scheduled for days of bad weather can still make their appointments.
As a result, Oishei has increased the number of patients served in behavioral health by 25%.
In addition to its robust behavioral health offerings, Oishei represents the only provider of tertiary and quaternary care of pediatric patients in the region. This means the hospital offers care that specializes not only in an area of expertise but also in pediatric patients with those needs. Oishei partners with or employs subspecialists and clinicians in the community to ensure any patient's need is met.
"We offer the full-scale children's hospital services," Jaros said. "It's soup to nuts."
The care begins at the neonatal intensive care unit. If your child is born prematurely or is critically ill or injured, it is likely you will be referred to Oishei for care, as its specialists and unique services provide a level of care like none other in the area.
Since Oishei is on the same campus as Buffalo General Hospital, the continuity of care is seamless for mothers delivering prematurely.
"We have adult specialists available if the mom needs someone," Jaros said. "We've been able to enhance the level of critical care."
BlueCross BlueShield of Western New York recently recognized Oishei Children's Hospital with a Blue Distinction® Centers for Maternity Care designation, as part of the Blue Distinction Specialty Care program.
Oishei is also part of a joint venture with Roswell Park, which is also on the same campus. Oishei collaborates to run a program for children.
Roswell treats out-patient children with cancer and Oishei treats in-patient children.
"As a result, we've been able to offer bone marrow transplant to children under five which we couldn't do in the past," Jaros said.
She views the people at Oishei as what makes the hospital truly stand out.
"Working here is a privilege," Jaros said. "It is an honor. I think our staff exudes that in everything we do from a day-to-day perspective. They're part of our family and we try hard to keep it that way."
Jaros said that the patients and the community that the hospital serves draws providers to work at Oishei. She hopes to continue to expand the hospital's tertiary and quaternary services.
"We want to enhance some of those subspecialty services, like complex/special needs services, behavioral health services, long-term epilepsy program, and the Healthy Weight program that we started 6 or 7 years ago," Jaros said. "That is multidisciplinary with specialists in gastro-intestinal, nutrition and bariatric surgery if needed. These help a child and their family who has a weight concern.  We've been able through education and collaboration to help many kids lose the weight they need to live a fruitful, active and healthy lifestyle."
In 2016, the hospital established Oishei Healthy Kids, a Medicaid Health Home providing care management services to Western New York children who have complex physical and/or behavioral health conditions.
Oishei Children's Hospital has the region's only Level I Pediatric Trauma Center, Level IV Neonatal Intensive Care Unit and state-designated Regional Perinatal Center. The Leapfrog Group, an independent watchdog organization, named Oishei a 'Top Children's Hospital' in 2018 and 2019.
---
Support Services Offered at Oishei Children's Hospital:
• Family Resource Center
• Artists in Residence
• Bereavement Support Services
• Child Life Program
• Spiritual Care
• Patient & Family Centered Care
•  Patient Advisory Council
• Discharge Planning and Social Work
• Stone's Buddies
Outpatient Services offered at Oishei Children's Hospital:
• Audiology
• Autism Spectrum Disorder Center
• Ear, Nose & Throat
• Healthy Weigh
• Intestinal Rehabilitation
• Neurofibromatosis
• Occupational/Physical Therapy
• Orthopedics
• Pediatric Surgery
• Perinatal Center of WNY
• Plastic Surgery
• Rheumatology
• Robert Warner Rehabilitation Center
• Speech
• Sports Medicine
• Urology
• Vascular Anomalies
• Dermatology
• Neurology
• EEG
• Ophthalmology
• Blood Draw
• Dental
• Craniofacial Center of WNY
• Children's Psychiatry Clinic
• Genetics
• Lead Poisoning Prevention Resource Center of Western New York
• Maternal Fetal Medicine Center
• Ophthalmology
• Pulmonology
• Sickle Cell & Hemoglobinopathy Center of WNY
• Gastroenterology & Nutrition
Photos: Photos courtesy of Oishei Children's Hospital.