Russell Salvatore's generosity continues to benefit Buffalo hospitals, community. Total donations amount to $9 million
By Michael J. Billoni
When Russell J. Salvatore slipped on ice leaving his accountant's office eight years ago, he knew something wasn't right with his ankle as he got himself into his car for the short ride back to Russell's Steaks Chops & More in Williamsville.
When he attempted to get out, he fell and could not get up.
After what seemed like an eternity to him, his grandson, Robert, discovered the founder and chairman of the famous restaurant and hotel on Transit Road on the cold ground in serious pain.
Nearly the entire Bowmansville Volunteer Fire Department arrived after 911 was called.
Jody Lomeo, then CEO of the Erie County Medical Center, was alerted that his good friend and hospital supporter was en route to the facility with a broken ankle.
"It was embarrassing when they wheeled me into the emergency room. There were so many white coats around me I felt like the president of the United States," Salvatore recalls.
What followed was a perfect operation by Christopher Ritter, but as Salvatore recuperated in his hospital room, little did he realize he suffered the most expensive broken ankle ever.
It had nothing to do with the cost of the procedure or the room at ECMC. However, as the cost continues to grow today, Salvatore couldn't be happier.
It all began when he was in his hospital bed recuperating and he wanted to watch TV. First, he did not understand why they had such small box TVs in patients' rooms and was appalled to learn it costs $8 a day to watch TV.
He asked for a meeting with Lomeo, now the CEO of Kaleida Health, and Sue Gonzalez, executive director of the ECMC Foundation.
After a brief conversation, Salvatore proposed a unique donation idea: He would replace each TV with a new flat-screen and eliminate the fee.
Once news got out about his generous donation, a restaurant customer said her mother was in Roswell Park suffering from cancer and they were charging her to watch TV.
"I just couldn't believe it," he said. "Patients suffering from the worst sickness in the world and they have to worry about paying to watch TV. I then made it a point to replace every television located in Western New York hospitals and for fees to end."
Compliments of Salvatore, 2,861 TVs have already been replaced in nearly every WNY hospital room at a cost of more than $3 million.
He is in discussions with the final two — Kenmore Mercy and Mount St. Mary's in Lewiston.
Salvatore and Mark Jerge, his vice president-general manager of the restaurant and the Russell J. Salvatore Foundation, has calculated that based on an average of four viewers per day in each hospital room, the gift is providing more than 4.1 million people annually the opportunity to watch TV for free during their hospital stays.
Let there be TV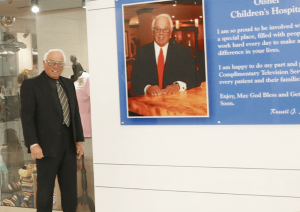 "When you are hospitalized, your connection with the outside world is cut off.  Watching television helps to keep you occupied, entertained and informed," explains Matthew Clark, who operates a local dance studio and who was in ECMC for a month in 2014 after suffering a massive stroke.
He is fully recovered, calling it his "ECMC Miracle."
"Thank you, Mr. Salvatore, for your generous gift that made my stay a little more bearable," he said.
Salvatore's foundation also funded the Russell J. Salvatore Orthopedic and Rehabilitation Floor at ECMC and last year, he committed $1 million to construct the Russell J. Salvatore Atrium Lobby as part of the hospital's major renovation.
Salvatore's philanthropy goes beyond local hospitals. He comes to the aid of the American Red Cross, the Veterans Administration Hospital and numerous veterans' causes; the new University at Buffalo's downtown medical school; the Kevin Guest House, St. Luke's Mission of Mercy and the Miracle League, to name a few.
"Some of my dad's blood is in me," he said. His father owned Salvatore's Restaurant on East Delavan when he was growing up. "He used to give four-foot chocolate bunnies to my friends every Easter and I would drive with him to Precincts 11 and 16 to deliver Thanksgiving and Christmas gifts.
"We ask for my name on the buildings, so 20 years from now when they ask, 'Who is Russ Salvatore?' they will say, 'A club owner who worked hard, made a lot of money but gave every penny away to the community that has supported him very well.'"
Jerge, who has been with Salvatore for 21 years, says, "The uniqueness of his desire to help as many people as he can, to the point of spending down his savings, is absolutely amazing. He is doing it now so he can see first-hand the people of Western New York experiencing his generosity. He often refers to it as a debt he owes the community for their 70 years of support."
Salvatore, who greets hotel guests enjoying a complimentary hot breakfast at 9 a.m. and says good night to those who are leaving the restaurant at 10 p.m., is often asked for his secrets to good health.
"Work hard. Don't retire. Drink enough vodka, have a steak every night and two to three cigarettes a day. It won't hurt you," he said with a laugh. "Seriously, good health comes from the man above. If you are honest, fair and treat people well, he will reward you with good health."
As Salvatore said: Be his guest and let him do the rest.