Business offers IV cocktails with nutrients tailored for individual needs: athletic performance and recovery, headache and migraine treatment, immunity and stress and anxiety
By Amanda Jowsey
The simplicity of my first visit with BFLO Hydration felt a little bit like going in for a haircut, manicure or other routine self-care appointment, but was unlike anything I've ever done for myself before.
The only time I've had an IV treatment is when I was already so sick that it was the only thing that could get me back on my feet to start healing. Experiencing this while healthy was completely unusual. It felt good to take a proactive approach to my health instead.
The environment at BFLO Hydration calms and reassures the mind, like visiting someone's house and knowing they will take good care of you. Clients can make a cup of coffee or tea at the coffee station to enjoy while they watch soothing fireside scenes on the ambient TV channel.
The chairs are large and cozy. The space is clean.
Their team is knowledgeable, helpful and friendly. Their smiles and calming presence testaments to their love for helping people stay happy, healthy and hydrated.
Leigh Snodgrass, director of operations and marketing, helped me settle in to my first appointment at their Williamsville office with a sunny vibe and a passion for holistic whole-body wellness.
Darlene Chichester, registered nurse, director of patient care services, first sat down with me and asked what aspects of my health I wanted to focus on to help me determine which IV cocktail would be right for me.
We decided on one of their most popular treatments, the Cheeri-o!
Most of their IV cocktails are aptly named to serve a Buffalo proud population: The Queen City, Chippewa Undone (for hangovers), The Youngman, Sca-Jack-Me-Up, Let it Go, The Myer's, Cheeri-o, and Thunder of Niagara.
Each cocktail is tailored to treat the body's specific needs. Some focus on athletic performance and recovery, headache and migraine treatment, immunity and stress and anxiety.
The Myer's Cocktail is inspired by Maryland's John Myers, a physician who started administering IV nutrients to patients to treat a variety of chronic diseases. This signature cocktail can help reduce signs and symptoms of fibromyalgia, asthma, migraines, dehydration and low energy levels.
The Cheeri-o treatment I received, one of their most popular cocktails, is BFLO Hydration's take on the classic Myer's Cocktail. It includes a mix of vitamins, minerals and antioxidants.
BFLO Hydration serves almost everyone: those with chronic illnesses or chronic stress, with high demand jobs and lifestyles, athletes, or those interested in health and beauty, to name just a few.
Husband and wife Curt Cabotaje and Amanda Hicks opened in 2018 with the goal of bringing this unique preventative health and self-care experience to the Buffalo area and have since expanded to five locations.
Hicks has been working in the medical administration field since 1999. She currently is the practice administrator for the Venous Institute of Buffalo and a medical practice consultant for doctors and healthcare facilities. She is completing her RN/BSN and is proud to have assembled a team of nurses who help exemplify her core values: wellness, community, teamwork and fun.
Their team helps clients take back control over their lives and their health without all the unnecessary stress of other approaches to wellness. IV vitamin therapy treatment is a fast, easy and incredibly efficient way of getting your body all the nutrients and hydration it needs.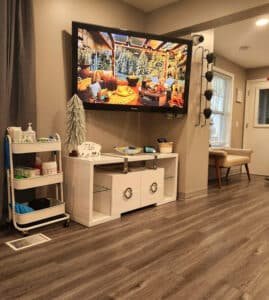 "IV therapy delivers 100% absorption of vitamins, nutrients, antioxidants and electrolytes into the bloodstream for immediate use throughout your body." Hicks said.
"Current statistics show that more than 90% of Americans suffer from some type of vitamin deficiency and 75% of Americans are dehydrated. As we age, our bodies inevitably undergo wear and tear. These changes include the buildup of toxins and free radicals within our cells and can directly impact our ability to fight chronic disease and autoimmune disorders," Hicks said. "Our digestive health may also suffer and our energy levels can sink. By bypassing the GI system, our vitamins and supplements are introduced into the bloodstream for immediate use and 100% absorption. What this means, is that the body doesn't have to do any work to be able to utilize them. We see dramatic results with even fluids alone."
BFLO Hydration also does intramuscular injections with a variety of choices to meet different needs, like antioxidants with anti-aging properties, or immunity boost. These injections "provide a week's worth of vitamins with only one injection," she said.
I tried a B12 injection after my IV therapy. The shot was painless and had no side effects. B12 injections have been shown to have immediate health benefits including increased energy and concentration, improved metabolism, stronger immunity, improved sleep and can also help with hair loss.
BFLO Hydration also offers an infrared sauna, Hydrafacial and "Q-Boost Sprays," vitamin sprays that can increase antioxidants and boost vitamin intake.
Little boost
IV therapy is a helpful and motivational option to people that sometimes, for whatever reason, can't get on top of their health. It can help give individuals the little boost they needed to get started on their wellness journeys, to just get back to daily life and to prime the body for optimal health.
After my treatment, the sluggish and cloudy feelings I carried walking in the morning of my appointment did progressively improve throughout the day. I could feel the effects right away and they carried into the following days. My mind feels sharper and more motivated to do the things we sometimes tire of doing on a day-to-day basis, especially with a lack of sunlight in winter. My body feels more energized and notably stronger.
Their nurse practitioners and registered nurses are trained in creating cocktails for hydration, wellness and vitamin supplementation. They can help clients decide when and how often to schedule an appointment. The benefits of an IV treatment typically last three to four weeks.
Their cocktails are made of four main building blocks: amino acids, antioxidants, minerals and vitamins. They are all sourced from FDA-approved pharmacies and mixed using sterile, aseptic techniques in compliance with medical guidelines. Their staff is trained in sterile precautions and is supervised by their medical director, Roseann Boswell.
The treatment is safe for everyone except minors and people with specific chronic diseases. Those pregnant or breastfeeding may still have treatment, but may not be able to include certain ingredients in their treatments. Their NP and RN work closely together to review medical history so that each client can get the IV Therapy that's right for them.
Hicks, always reminds her clients that IV Vitamin therapy is not a replacement for healthy lifestyle choices and regular medical visits, but a supplement to these regular practices.
"I would tell anyone who is considering having an IV cocktail to be very transparent with your health history. Understanding that each individual is unique is a very important step for our registered nurses and medical director when considering your candidacy for each of our ingredients. We never diagnose or treat any medical disease. What we offer can be used as an additional supplement to traditional medicine. It can be a really great benefit when you're looking for a way to replenish your system," she explained.
BFLO Hydration does not accept insurance, but "our services are still less expensive than a lot of copays or a trip to the spa," she said.
BFLO Hydration also provides concierge service to homes, offices and hotels.
Prices starting at $175
Here's Where You Can Get Your IV Cocktails in WNY
BFLO Hydration – Main location 1205 Hertel Avenue, Buffalo NY 14216. 716-245-1045. Bfloiv.com
Luminescence Aesthetics – 2372 Sweet Home Rd. #5, Amherst, NY 14228. 716-800-1916. Luminescence-aesthetics.com
OMW Integrative Wellness – 235 S. Elmwood Ave Suite 120, Buffalo, NY 14201. 716-453-2252. Omwintegrativewellness.com
Essential IV Therapy of Orchard Park – 6576 E Quaker St. Suite 3, Orchard Park, NY 14127. 716-982-4703. Gotowellnesscenter.com
Golden Halo Concierge – 4655 N. Bailey Ave Suite 202, Buffalo, NY 14226. 716-341-6191. Goldenhalonurse.com
IL Mulino- Aesthetics – 8207 Main St. Suite 14, Buffalo, NY 14221. 716-954-3122. Weareilmulino.com