Field is growing 'much faster than average, compared with all other careers,' according to the Bureau of Labor Statistics
By Deborah Jeanne Sergeant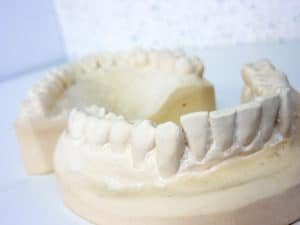 With an annual mean wage of $44, 620 to $76,440 statewide  (Bureau of Labor Statistics, May 2017; no Buffalo-specific data available) and no education requirements, the dental lab tech career offers generous remuneration.
Few other positions related to healthcare pay so well with so few education requirements.
Lab techs may make and repair orthodontic devices or dental prosthesis like dentures and bridges or crowns. These devices are all custom equipment specially made according to the patient's forms and the specifications from the doctor.
Dental lab techs don't interact with patients; however, their relationships with doctors require a level of customer service and interpersonal skills. Dental lab techs must pay careful attention to detail and understand why these details will play a large role in the patient's satisfaction with their experience with their dental professional.
Dental lab techs are very employable.
"I don't think the need will ever stop," said Jessica Grange, human resources assistant with Great Lakes Dental Technologies in Tonawanda. "We have 275 employees and we're always hiring for this position."
Great Lakes trains new hires in-house. Grange said that even people without any experience have hope for advancement into areas with greater skill and responsibility.
"We pay for further education if someone had a true interest in the career," Grange said.
Peter DeMarco, dentist and department head for Erie Community College's two-year dental laboratory technology program, said that with the certification and education, "you tend to make more money."
The program has no prerequisites but a high school diploma; however, "you need excellent manual dexterity and good color perception."
Students learn to make complete dentures, removable partial dentures, crowns, bridges and orthodontic appliances.
"It's a great career choice," DeMarco said. "The biggest problem in getting students in is that few students know it's a career."
Of course, additional schooling would only help a dental tech to advance in the career; however many employers provide on-the-job training. A few community colleges in the region like Monroe Community College and Erie Community College offer two-year courses. Graduates can then become certified in dental lab technology. Although not a required credential in New York, the certification is nationally recognized. Some states may have their own qualifications.
With this kind of experience and education, people may work at orthodontic labs, dental labs, doctor's offices and larger dental and orthodontic offices.
Brian D. Willison, certified dental technician, is on faculty at UB School of Dental Medicine, department of oprthodontics, and also trains at Great Lakes Dental Technologies in Tonawanda.
"It can be a good career if you choose to run the ladder," Willison said. "If you look at orthodontics, there's a variety of devices and depending on what company you join, there's chances of advancement."
For Willison, the work is rewarding because "you're helping people and making beautiful smiles and improving oral health as well as the digestive system. It all works together. You're helping people and making them look good."
He added with a chuckle, "You start noticing people's teeth more working in this field."
The industry has become more dependent upon technology as an increasing number of dental and orthodontic offices are using computerized scans rather than physical molds to help dental techs create the devices they need. While 3-D printers can create some dental devices like tray aligners, they don't take the place of dental lab techs. The printers also require skilled technicians to operate them, so their presence in the industry doesn't mean fewer jobs. In fact, the Bureau of Labor Statistics predicts an increase in the demand for dental lab techs to increase by 11% between 2018 and 2028, rated as "much faster than average, compared with all other careers.