By Anne Palumbo
If you haven't eaten beets in a while, you might want to head to the nearest farmer's market. 
This in-season veggie, known for its luscious colors and earthy flavor, is packed with a bounty of nutrients and antioxidants, enough to grant it superfood status.
A beet's color contributes to many of its unique health benefits. Betalains, the pigments responsible for this tuber's jewel-like hues, are plant compounds esteemed for their antioxidant and anti-inflammatory properties. 
While antioxidants help to protect cells from free-radical damage, anti-inflammatories help to suppress inflammation that can damage arteries, organs and joints. Although more research is needed, recent studies suggest that betalains could help lower the risk of heart disease, cancer, Type 2 diabetes, obesity and more.
Worried about your blood pressure? Reach for a beet! Beets are rich in two nutrients that may lower blood pressure: dietary nitrates and folate. In your body, dietary nitrates are converted into nitric oxide, a molecule that dilates blood vessels and lowers blood pressure. Folate, a B-complex vitamin, is thought to reduce the risk of high blood pressure by helping blood vessels relax and improve blood flow. Folate also reduces levels of homocysteine, a protein in the blood that has been linked to heart disease. 
If you're thinking all this improved blood flow is good for brains, you are correct! More blood means more oxygen, and more oxygen means improved mental performance. 
Of course, beets have many more nutritional perks that make them a great addition to most diets. First, they're super low in fat and calories (only 40 calories per average serving), but high in water, which keeps you hydrated and satiated. Second, despite their meager calories, they contain moderate amounts of protein and fiber, two more nutrients that promote feelings of fullness. In other words, beets may help with both weight maintenance and weight loss.
And while beets do have more carbs than your average vegetable, they're the good-for-you carbs that take longer to digest and that have been linked to healthier weight, happier guts, and lower risks of Type 2 diabetes and heart disease.
On the subject of diabetes, the American Diabetes Association encourages the consumption of this non-starchy vegetable, as there are no known risks to eating beets if you have diabetes. Since their glycemic index is medium and their glycemic load is low, beets should not have a major effect on blood sugar levels.
---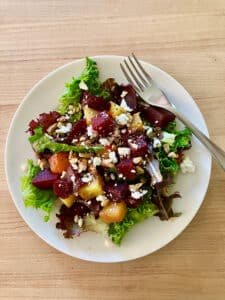 Cheese and Toasted Walnuts
Serves 4
3-4 medium beets, scrubbed and ends trimmed
2 tablespoons balsamic vinegar
1 teaspoon Dijon mustard
1 clove garlic, minced
Kosher salt and coarse black pepper, to taste
3 tablespoons olive oil
4-6 cups baby arugula or other fresh greens mix
½ cup toasted walnuts
½ cup crumbled goat cheese
fresh basil for garnish
Preheat oven to 400 degrees. Drizzle beets with scant amount of olive oil, season with salt and pepper, wrap in foil, and place on a baking sheet. Bake until beets are fork-tender, about 55-60 minutes. Let cool for 10-15 minutes.
Meanwhile, whisk together the vinegar, mustard, garlic, salt, pepper, and olive oil and set aside. 
Peel cooled beets with a small sharp knife, then cut into wedges, slices, or bite-sized pieces. 
Place the arugula or greens in a separate bowl and toss with enough vinaigrette to moisten. Put the salad on a serving platter or individual plates, then arrange the beets, walnuts, and goat cheese on top. Drizzle with additional vinaigrette if desired, sprinkle with salt and pepper to taste, and then garnish with fresh basil. Serve immediately.
---
Anne Palumbo is a lifestyle columnist, food guru, and seasoned cook, who has perfected the art of preparing nutritious, calorie-conscious dishes. She is hungry for your questions and comments about SmartBites, so be in touch with Anne at avpalumbo@aol.com.