By Anne Palumbo
My husband and I now get most of our protein from plant-based foods: legumes, quinoa, chia seeds, tofu and dairy products.
While we are long past any growth spurts, we still need protein to preserve muscle mass, maintain balance, manage weight and recover from injuries.
Compared to getting protein from meat, however, it's not always easy to get our daily allotment of protein from plants.
But a food product we recently discovered has facilitated that effort: plant-based pasta.
Most plant-based pastas have considerably more protein than your average refined-wheat pasta. Plus, their pronounced flavor satisfies us more than regular pasta.
Read on for more good reasons to eat plant-based pasta. And why "more protein" is just the tip of this nutrition-packed iceberg.
• Loaded with fiber. Most plant-based pastas have over twice the fiber of regular pasta. Fiber is a boon to health because it stabilizes blood sugar levels, promotes regularity and ferries bad cholesterol out. Many studies suggest that increasing fiber reduces our susceptibility to heart disease, cancer, stroke and diabetes.
• Fewer and healthier carbs. Not only do plant-based pastas have fewer carbs, but the carbs they do have are the "good" ones—the complex ones. Because these carbs have more fiber than simple carbs, you'll feel fuller longer and be less likely to overeat. Moreover, their slower digestion provides a steady stream of energy and minimizes spikes in blood sugar.
• Good for the planet. Eating more plant-based proteins can also help protect the environment. Livestock accounts for around 14.5% of the world's greenhouse gases each year, which is roughly the same amount as the emissions from all the cars, trucks, planes, and ships combined in the world today. Holy cow! Greenhouse gases, as you may know, contribute to global warming and climate change.
Green Goddess Pasta Salad with Veggies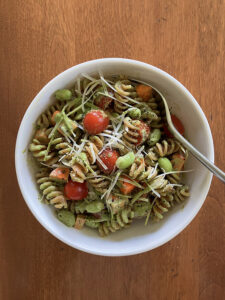 Serves 4-6
For the dressing:
1 garlic clove, minced
½ cup fat-reduced mayonnaise
1/3 cup light sour cream
½ cup fresh parsley
½ cup fresh basil
2 tablespoons chopped chives
2 tablespoons fresh lemon juice
1 tablespoon olive oil
½ teaspoon salt; ¼ teaspoon coarse black pepper
For the salad:
8 oz plant-based pasta (I used red lentil for high protein and fiber)
1 cup cherry tomatoes, halved
2 medium carrots, chopped
1 cup shelled edamame, cooked
Parmesan cheese, shredded
Boil the pasta in a large pot of salted water, according to the package's "al denté" instructions. Once pasta is finished cooking, rinse under cool water and drain well.
While pasta is cooking, make the dressing. Combine all the ingredients in a food processor or blender and purée until smooth.
Transfer cooled pasta to a large serving bowl. Add the cherry tomatoes, carrots, edamame, and dressing, tossing well to combine. To serve, top with grated Parmesan.
Helpful Tips
Read nutrition labels carefully. While most types of plant-based pasta are similar in terms of calories and overall nutrition, they can vary greatly in protein and fiber content. Also, plant-based pasta shouldn't take the place of whole vegetables in your diet, as the nutritional content of pasta pales in comparison to actual vegetables. Consider adding vegetables to your pasta dishes to boost nutrients.
---
Anne Palumbo is a lifestyle columnist, food guru, and seasoned cook, who has perfected the art of preparing nutritious, calorie-conscious dishes. She is hungry for your questions and comments about SmartBites, so be in touch with Anne at avpalumbo@aol.com.