By Anne Palumbo
Quinoa (pronounced KEEN-wah) is a whole grain whose popularity has skyrocketed in recent years. Beyond being delicious, versatile and easy to prepare, quinoa is so nutritious that NASA feeds it to crews on long space missions.
Considered a bona fide superfood by many, quinoa serves up a powerful mix of desirable nutrients, many of which have been linked to the prevention of disease.
Let's take a look at four good reasons to embrace this healthy whole grain.
1. Higher in protein than most whole grains.
Quinoa not only packs a whopping 8-9 grams of protein per cooked cup, it delivers protein that's "complete," which is uncommon among grains. Complete proteins contain all nine essential amino acids (protein's building blocks) that your body can't make on its own. Feeling sluggish, weak, under the weather? You may not be getting enough protein.
2. Loaded with heart-healthy fiber.
Quinoa delivers 5 to 6 grams of fiber per cooked cup, putting a sizable dent into the recommended 25 to 30 total grams we should be eating daily. Fiber keeps us regular, lowers cholesterol levels, helps prevent spikes in blood sugar after eating and may help us live longer. Studies suggest that increasing your fiber intake—especially from whole grains—is associated with a reduced risk of dying from heart disease and some cancers.
3. Packed with important vitamins, minerals, and antioxidants.
Regularly eating quinoa can help meet your needs for a wide variety of vitamins, minerals and phytochemicals (antioxidants that reduce inflammation and promote longevity). Quinoa's top five include folate, manganese, magnesium, phosphorous and zinc, all of which come together to help build bones, keep our immune system humming, promote healthy cell growth (crucial during early pregnancy), manage blood pressure and so much more.
4. Great for people with gluten intolerance.
Unlike most whole grains (though quinoa is technically a seed, like buckwheat), quinoa is gluten-free. What sets it apart from some gluten-free substitutes in grocery stores—many of which are made from refined starches and may have added sugar, fat, and salt—is its bounty of nutrients coupled with its paucity of fat, sugar, sodium, and cholesterol. Go, quinoa! Go, happy gut!
Quinoa Salad with Olives, Cucumbers, and Cherry Tomatoes
Serves 5-6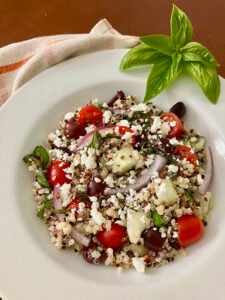 1 cup quinoa, rinsed, drained
2 cups water
½ cup pitted Kalamata olives, quartered
½ small red onion, thinly sliced (optional)
1 cup cherry tomatoes, halved
1 medium cucumber, peeled, seeded, diced
1 cup crumbled feta, divided
½ cup basil, slivered
juice of 1 lemon
1/3 cup olive oil
2 teaspoons Dijon mustard
1 clove garlic, minced
½ teaspoon kosher salt
¼ teaspoon coarse black pepper
1. Place the quinoa in a saucepan with the water; heat to a boil. Reduce to a simmer, cover and cook until all the water is absorbed (about 15 minutes). Set aside.
2. Place the olives, onion, cherry tomatoes, cucumber, ¾ cup feta and basil in a large bowl. Add quinoa; stir gently to combine.
3. Whisk together the lemon juice, olive oil, mustard, minced garlic, salt and pepper. Pour over the quinoa mixture; toss to combine. Let stand at room temperature for an hour before serving. Refrigerate for longer keeping. Stir gently before serving.
Sprinkle each serving with remaining feta crumbles.
Helpful Tips
Some quinoa needs to be rinsed to remove the bitter-tasting compound that naturally coats it. Although most packaged quinoa bought in the U.S. comes "pre-rinsed," I always rinse mine under cold water for a few minutes, using a fine sieve. Also, quinoa is pretty high in oxalates, which may cause concerns if you have kidney issues. Cooked quinoa, stored in an airtight container, can last up to a week in the fridge.
---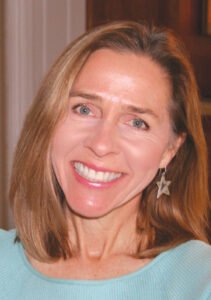 Anne Palumbo is a lifestyle columnist, food guru, and seasoned cook, who has perfected the art of preparing nutritious, calorie-conscious dishes. She is hungry for your questions and comments about SmartBites, so be in touch with Anne at avpalumbo@aol.com.