By Deborah Jeanne Sergeant
You can enjoy better health and safety by making a few changes this summer.
1 — Don't slack off on your preventive health.
"Stay up to date on recommended vaccines, including COVID-19," said Kara Kane, public information officer for Erie County Department of Health.
With the busyness of summer vacations and so many fun events, it's easy to let these important appointments slide. Routine vaccines have been safely used for decades and have prevented innumerable life-altering and fatal illnesses.
2 — "Practice good safety around swimming pools and bodies of water, especially when children are present," Kane said.
This includes swimming with a buddy—not alone—and having the children complete swimming lessons if they don't know how to swim. Avoid swimming in restricted areas and places without a lifeguard present. Never allow unruly horseplay while children are swimming. Do not allow children to swim if they have been ill and always use a proper swim diaper for those not yet potty trained. Secure your home pool and keep it clean according to the manufacturer's directions.
3 — "Prevent tick-borne illness by reducing risks of tick bites," Kane said.
Use tick repellent spray. Stay on the trail while hiking. Tuck pantlegs into socks and wear light colors, so ticks are more visible. Check for ticks after spending time in tall grass or in the woods. Keep your property clear of brush, as that's a preferred habitat for ticks. Eliminate plantings that attract deer, which are tick carriers. Follow Erie County's Facebook page (https://www.facebook.com/ecdoh) to receive updates on tick-borne illnesses and other important health information.
4 — Use your safety gear.
It may seem like kids' stuff to use safety gear. However, Kane wants to see anyone who's participating in outdoor activities to gear up.
"Wear a helmet when biking and rolleskating and wear a life jacket when boating or going out on the water," she said.
5 — Drink more water.
Instead of loading up on sugar in summertime beverages, from soda to energy drinks to sweet tea, minimize intake of these drinks to cut empty calories. Opt for club soda, unsweetened iced tea, or ice water with fruit, vegetables or herbs, which can help skip calories while keeping hydration interesting.
6 — Eat more whole foods.
Picnics, festivals and parties are easy places to find processed foods, like hot dogs, fried foods and fatty meat. Finding more foods close to their natural state helps reduce intake of sodium, fat, additives and excess calories. Grilled chicken breast or fish, corn on the cob and fresh fruit salad are a few examples of healthful, whole food-based summertime fare.
7 — Buy local produce.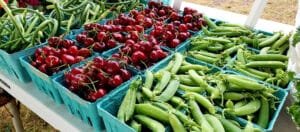 Whether from a farm stand, farmers' market or community supported agriculture program, "it's about how things are processed and how far they travel before you eat them," said Jamie Symmonds, event organizer for Willow Consulting and founder and organizer of the Lewiston Artisan Farmers' Market in Lewiston. It's about how things are processed, like fresh crushed organic juices. They don't sit on a shelf for weeks and weeks. It's a healthy option to shop. You know where your food comes from, what ingredients are included. Your fruits and vegetables can be local and organic."
Shopping at a farmers' market can also encourage trying new things, as farmers selling there often talk with browsers about their goods and how they may be used. And "sometimes you see new and interesting things," Symmonds added.
8 — Try a CSA.
In general, a CSA is an agreement in which a consumer pays upfront for the farm's produce for the season. Each week for a pre-designated time period, the customer receives a box ("share") of the farm's harvest. Some farms allow CSA customers to help harvest and some sell other local products in their shares, such as maple syrup, honey, baked goods and jam.
9 — Pick your own produce.
In addition to obtaining fresher, lower-cost produce; picking your own fruits and vegetables helps kids better understand the source of their food. Many farms offer U-pick experiences that include other activities. Visit www.pickyourown.org to find out where to go. Kane said that the Erie County Department of Environment and Planning/Office of Agriculture maintains a site, ErieGrown (www.erie.gov/eriegrown), which offers local sources for fresh produce.
10 — Raise your own fruits and vegetables.
Gardening often encourages children to feel more vested in their food. Whether it's a veggie plot or grown in a pot, children love raising, preparing and eating homegrown produce. If you have the space, consider planting perennial produce, like fruit trees, raspberries, strawberries (these last two to three years), scallions, and rhubarb.