By Ernst Lamothe Jr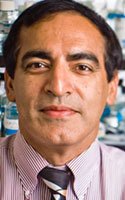 Vaping has been an issue that continues to concern medical professionals, especially after several states reported unexplained teenage hospitalization, lung injuries and deaths.
This year, more than 1,500 lung injury cases associated with the use of vaping products have been reported to the Centers for Disease Control and Prevention nationwide. Thirty-three deaths have been confirmed in 24 states. All patients have reported a history of using e-cigarette or vaping, products.
Vaping works by heating a liquid to produce an aerosol that users inhale into their lungs. The liquid can contain nicotine, tetrahydrocannabinol (THC) and cannabinoid (CBD) oils, and other substances and additives. THC is the psychoactive mind-altering compound of marijuana that produces the "high."
"There has been a cluster of lung injuries that has resulted in people being hospitalized and it is something that we have to pay attention to because this could become a serious epidemic," said Sanjay Sethi, a pulmonary critical care and internal medicine physician who see patients at the Buffalo VA and at clinics at at Conventus in the Downtown Medical Campus and at Youngs Road in Amherst.
Sethi, who is also the division chief for pulmonary critical care and sleep medicine at UB, offers five facts about vaping that he wants the public to understand.
1. No evidence that vaping is safe.
There are some that say vaping is a safer version than smoking because it may produce fewer toxins and chemical compared to a traditional cigarette. But with the sudden rash of reported deaths, there has been a hyper focus on investigating these cases. Since the specific cause or causes of lung injury are not yet known, the only way to assure that you are not at risk while the investigation continues is to consider refraining from the use of all e-cigarette, or vaping, products.
"There is no evidence that vaping is safe. It does have undesirable effects, especially since we don't know all the substances that are put inside e-cigarettes," said Sethi. "For some time, it wasn't regulated to an extent, and when it came to the market, stores just opened up and were selling them as a natural alternative."
The Centers for Disease Control and the Federal Drug Administration have not identified the cause or causes of the lung injuries in these cases, and the only commonality among all cases is that patients report the use of e-cigarette, or vaping, products.
"There is a huge black market of vaping that contain large amounts of THC and other chemicals that we don't know. It is such a burgeoning market that people started to gravitate to it because they didn't know all the possible damages and now, they are seeing the consequences."
2. Vaping and teens are connected
People remember the cartoonish Joe Camel advertisements that many believed helped usher in the wave of teenage smoking. Medical experts see the same thing happening with vaping. More than 150 various vape flavors exist, including gummy bear, cotton candy, Pina colada, tiramisu, strawberry cheesecake, watermelon, Doritos, kiwi and grape.
"We know that teens are starting to move toward these e-cigarettes and this could lead to tobacco addiction," said Sethi. "There was a dramatic decline in teen smoking for some time, but vaping has reversed the trend. When you have flavors like gummy bears and cotton candy, it is not difficult to see why teens are gravitating towards it."
3. There is too much misinformation about vaping
While vaping may be common on college campuses and among groups of teens and smokers, in general there isn't a lot of awareness about the trend. There are people who suggest it is inherently safer and more natural and others who say it is a successful way to quit nicotine.
"There are some health professionals that believe e-cigarettes could help people who want to quit cigarette smoking. We know cigarettes have so many different components, so I understand how people might see this as a reasonable step toward quitting. We just have so much misinformation and unknown information about vaping that I would caution telling someone that is a guaranteed way to handle smoking cession."
4. There is no benefit to vaping
Because vaping or e-cigarettes contain some form of ingesting nicotine into the lungs, smoking harms nearly every organ of the body, causes many diseases and affects the health of smokers in general. Avoiding vaping lowers your risk for smoking-related diseases and can add years to your life. Smoking causes stroke and coronary heart disease, which are among the leading causes of death in the United States. There is no safe tobacco product. All tobacco products, including e-cigarettes, carry a risk. "A high level of nicotine can have incredible effects on the brain," Sethi added. "It could hinder brain development, cause attention deficit disorder and other issues. Also, anytime you put something addictive into your system, issues can arise."
5. The sickness is real
People are reporting toxic inhalation syndrome, which includes coughing and shortness of breath. Inhaled substances may cause injury in pulmonary epithelium at various levels of respiratory tract, leading from simple symptoms to severe disease.
"We are seeing a spectrum of lung issues from patients not just one," said Sethi. "There have been people are seeing serious problems with their lungs. Then you have people who started vaping for fun and are not addicted and don't want a substitute or are now not interested in quitting."