John Geraci was diagnosed with the disease when he was 23. Now at 28, he's raised nearly $40,000 for research and treatment
By Julie Halm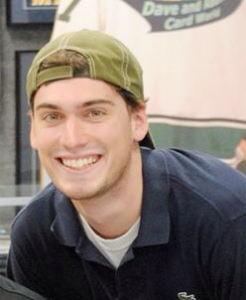 It was a long road for 28-year-old Amherst resident John Geraci and his doctors before eventually reaching his diagnosis of mitochondrial disease.
His symptoms began at the same time as his high school career and brought him to Case Western University Hospital in Cleveland. Doctors managed to treat his symptoms for a while but by the time he was 22, Geraci was experiencing dangerously low blood pressure and heart rates, frequent bouts of unconsciousness, stroke-like symptoms and seizures and issues with his kidneys, pancreas and GI tract.
All of these complications would require Geraci to receive a gastronomy tube, a port and a pacemaker.
It wouldn't be until he was 23 that he would receive a conclusive diagnosis and shortly after, he decided that getting treated wasn't the only thing he could do to fight the disease and so he established the John Geraci Family Research Fund through the United Mitochondrial Disease Foundation.
"I think it was kind of my way of trying to manage some part of my life," he said.
Geraci said that he hopes to help others who are battling the complicated disease through his efforts as well.
According to the United Mitochondrial Disease Foundation, the disease primarily affects children, but cases involving adult-onset are becoming more common. Doctors and researchers know that the issue is caused by the failure of mitochondria and can cause seizures, strokes, severe developmental delays, inability to walk, talk, see and digest food. Diagnosis can often be difficult because it can present differently in every individual.
Since establishing the fund, it has garnered just shy of $40,000 in donations.
"People were really, really supportive," said Geraci, adding that individual donations as well as fundraising events thrown by supporters helped him to raise the substantial funds. "It's going directly to research and trying to find a cure."
Geraci hopes to use that support to bolster those in the community living with mitochondrial disease.
"There's not a ton of us, but I get phone calls or talk to people all of the time, really every single day," he said.
There are, very likely, many individuals living with mitochondrial disease who are not aware, he said.
"While exact numbers of children and adults suffering from mitochondrial disease are hard to determine because so many people who suffer from mitochondrial disease are frequently misdiagnosed, we now know the disease is approaching the frequency of childhood cancers," according to the United Mitochondrial Disease Foundation's website. "Many are misdiagnosed with atypical cerebral palsy, various seizure disorders, childhood diseases and diseases of aging. Still others aren't diagnosed until after death."
The foundation hopes that fundraising efforts will not only advance treatments and potentially produce a cure for all types of patients from childhood to adult and across the spectrum of severity.
For Geraci, he hopes to turn his fundraising goals into a full-time effort and aims to plan several events in the coming year.
"It's going to be something I probably won't ever stop doing," he said.
To learn more about Geraci, or to donate to his campaign, visit www.classy.org/campaign/research-fund-john-geraci/c131281