By Kyra Mancine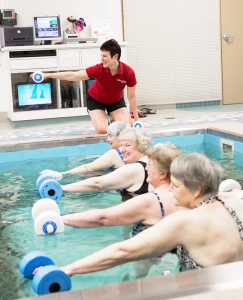 You don't even need to know how to swim to participate. Aquatic therapy is a way for people with a variety of conditions to rehabilitate, relieve pain and improve mobility, strength and coordination. The buoyancy of the water — combined with soothing, warmer water temperatures and gentle, low impact exercises (done with or without equipment) — makes it one part of an overall treatment plan for individuals with orthopedic issues or other injuries.
The treatment
Programs vary, but most sessions include resistant exercises done in a therapeutic pool heated to 85 degrees Fahrenheit or above. Some pools have lifts so the patient won't have to walk down steps to enter or exit the pool. In select locations, an underwater treadmill is available. During the course of the session, which can range from 30 to 60 minutes, you complete a variety of movements intended to improve balance, strength, range of motion, endurance and coordination.
Because of the resistance of the water, you can get a better workout in a shorter period of time, without the risk of injury. All you need prior to your session is a swimsuit and, in some cases, goggles or water shoes.
How to get started
In most cases, individuals are referred by their doctor for these programs and evaluated by a licensed therapist who customizes a treatment plan. This plan could also include land-based exercises. Typically, the physical therapist will screen potential candidates and recommend a course of therapy appropriate for their needs. Insurance often covers the therapy, but always check with your provider before you begin any course of treatment.
A pool with a treadmill floor
At the Smolinski Family Sports Medicine Center at the University of Buffalo, athletes can rehabilitate in one of two Hydroworx pools. These small, specialty in-ground pools have a treadmill floor. As the floor moves, jets shoot out water to create greater resistance, creating a safe, but challenging recovery workout. Underwater cameras record a patient's stride. You may not be a Division 1 athlete, but you can find other local facilities to participate in various forms of aquatic therapy.
Where to Go
According to Physical Therapist Lindsay Bilson of the Buffalo Rehab Group, aquatic therapy is "the best of both worlds — less pain during your rehab program and maximal functional recovery."
Their East Amherst location has warm water pool access right in the clinic for patients to use, and their Williamsville location (inside the YMCA) has some pool access from the use of the Y's pool as well.
Bilson explains that people who have chronic problems like back or leg pain can benefit from the off-loading of their joints, making movement much more comfortable. "It can also help those who have had hip, knee, and ankle surgeries recover much faster," Bilson said. "Young, old, athletic, tall or short, you may benefit from being submerged. Performing strength exercises that were otherwise painful on land can be pain-free in water."
Other providers include Orthosports Physical Therapy where clients receive individualized programs offered to one or two people per session. Pool temperature is a soothing 90 degrees. There's also a pool at Catholic Health that's heated to 94 degrees and has an underwater treadmill as well as stairs with railings, grab bars and resistance devices. Advanced Care Physical Therapy of Western New York has two full size, heated aquatic therapy pools with an endless swimming current as well as two underwater treadmills.
Looking for a group class?
The JCC of Greater Buffalo offers over 40 aquatic-based classes in soothing 83 to 85-degree water. These classes feature Hydrorider Spinning Bikes. These unique aqua bikes have adjustable paddle wheels, allowing patients to increase or decrease resistance and difficulty level, making them perfect for aquatic conditioning. Patients can also find aquatic therapy classes offered twice a week at Advanced Care Physical Therapy Center in Niagara Falls. Each session has four to six patients, lasts one hour and may include land-based exercises as well.
What about our furry friends?
Not to be undone, there's even aquatic therapy for dogs available at SandDancer Canine Swim Therapy & Fitness in Orchard Park. Yes, even four-legged friends benefit from this therapy.
If you find yourself sidelined by an injury or illness where regular, land-based workouts or traditional exercise equipment use isn't an option, consider exploring the possibilities and benefits of aquatic therapy at one of the local providers in the Western New York area.
Who Benefits From Aquatic Therapy
According to several sources interviewed for this story, patients with the following conditions can benefit the most from aquatic therapy:
• Orthopedic conditions
• Shoulder / lower back / sciatic pain
• Athletic / sports related injuries
• Sprains, strains, knee / hip / ankle injuries
• Pre/post joint replacement
• Neck / shoulder pain
• Multiple sclerosis and Parkinson's disease
• Chronic ailments such as fibromyalgia and lupus.
---
Where to Go for Aquatic Therapy
Select places where aquatic therapy is available in Western New York:
• Advanced Care Physical Therapy of Western NY, Alden
• Advanced Care Physical Therapy Center, Niagara Falls
• Buffalo Rehab Group (two locations), East Amherst and Williamsville
• Catholic Health, Buffalo
• GreenFields Health & Rehabilitation Center, Lancaster
• Jewish Community Center (JCC) of Greater Buffalo
• Orthosports Physical Therapy, Amherst and Williamsville
• SandDancer Canine Therapy & Fitness (for dogs), Orchard Park