That's how much time it took to move 125 mothers, children and babies from Women and Children's Hospital of Buffalo to the new John R. Oishei Children's Hospital in November. The doctor in charge of the transition: Stephen Turkovich, chief medical officer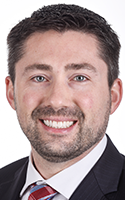 When John R. Oishei Children's Hospital opened in early November, physician Stephen Turkovich, chief medical officer, was a very busy man.
The entire transition from Women and Children's Hospital of Buffalo to the new facility took only 12 hours to execute, but endless hours to effectively plan, including 12 mock moves leading up to the big day. As 125 mothers, children and babies were being moved to the Oishei Children's Hospital, Turkovich was in charge at the command center located at Women and Children's Hospital of Buffalo, overseeing the proceedings.
"I ensured tight communication and team work among the clinical teams, AMR, emergency preparedness, IT, facilities, security and our partners from the community and governmental agencies to ensure that our patients were transported safely to the new hospital," Turkovich said.
All of those preparations led patients and practitioners to a new facility with a host of improved features.
Located on the Buffalo Niagara Medical Campus, the new Children's Hospital is directly connected to Buffalo General Medical Center through a second and third floor skywalk to enable quicker access for at-risk adult patients. The new facility also features an ambulatory surgery center, two new MRIs as well as two new CTs, larger operating rooms, single rooms in the NICU, and an enhanced air filtration system, to name a few.
"The moms, children and infants of our community will have access to the absolute best care in a state-of-the-art facility right here in the heart of downtown Buffalo. We'll be positioned to attract the best and brightest physicians and nurses, enhance care for our patients, foster an environment that promotes healing, recovering and overall well-being, pursue research and discovery and invest in education, advocacy, and outreach throughout our community," said Turkovich.
The new hospital is more than just that for the Orchard Park native and self-described proud Buffalo resident.
"I am proud and thrilled about our move to the new John R. Oishei Children's Hospital. It's another key milestone in the city's ongoing renaissance and for the families of Western New York," he said. "Our new hospital is a beautiful example of the Buffalo renaissance, demonstrating the endless possibilities and exciting opportunities for our region."
Turkovich completed his undergraduate schooling in the honors program at the University at Buffalo and received his degree in anthropology. He remained in the area to complete his doctoral degree from the Jacobs School of Medicine and Biomedical Sciences at the University at Buffalo and went just up the road for his residency in pediatrics at Golisano Children's Hospital in Rochester.
Before being named chief medical officer in 2014, Turkovich was a clinical assistant professor of pediatrics at the University at Buffalo and a hospitalist with UBMD Pediatrics at Women & Children's Hospital of Buffalo. In 2008 he was appointed the quality and patient safety officer for Women and Children's Hospital.
Although he has been with Women and Children's Hospital for nearly a decade, the chief medical officer said he never gets bored.
"No two days are ever alike. My primary responsibility is to ensure that we provide the highest quality and safest care possible to all of our patients and their families," he said. "By far the most rewarding aspect of working at Oishei Children's Hospital is watching our patients transition home with heart-warming smiles on the road to recovery."
Not every day is all smiles, however. Turkovich noted that the hardest days come when families and patients need help healing and recovering from devastating and traumatic circumstances.
On good days and bad, he said, he takes a holistic approach to medicine and hopes to lead a facility which serves as a crucial resource to the community he loves.
"I've always had a passion for advocacy, teaching and the biologic sciences. The medical field allows me to help and empower my patients and their families make healthy choices; advocate for children; and build a healthier community. Anthropology taught me how cultural beliefs, human interactions, and socioeconomic forces impact health and wellbeing," he said.