Cardiologist talks about how technology, education and research have helped reduce number of acute heart events
By Chris Motola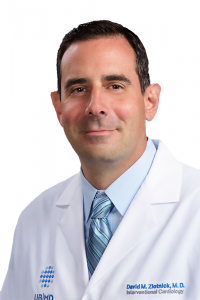 Q: What does your practice cover?
A: I'm a cardiologist with subspecialty training in interventional cardiology as well as endovascular medicine. I do have an ambulatory cardiology practice, but the procedural work is done in a hospital-based setting.
Q: What's your typical patient profile?
A: I treat a wide range of patients, from patients with coronary artery disease, patients with structural heart disease, to patients with peripheral arterial disease.
Q: Interventional cardiology seems to have had some of the most striking gains in efficacy over the last couple decades. What's been key to helping patients avoid heart attacks or, if they have one, to survive one?
A: I think it's a combination of many things. One of those is education and research. We have a better understanding of the disease process. And that's education not only of cardiologists, but other providers and first responders, and setting up these regional networks and triage centers where patients are expedited and treated and brought to centers of excellence where they can be administered life-saving treatment. But in addition to that, I think it's also the advancement in technology over the last 20 years. We're also trying to make it more readily available.
Q: What are some of the biggest game-changers, technology-wise?
A: The more minimally invasive techniques, like radial approach for cardiac catheterization as well as the second and third generation stents are also helping to improve outcomes. And from a procedural standpoint, better detection and our regional EMS networks and algorithms which got our patients to tertiary care centers where procedures can be performed and expedited.
Q: I know the first generation of stents had some problems. What's changed with the newer generation that's improved their functionality?
A: The scaffold has gone from thicker to thinner. The medications on the drug-eluting stents were changed to different drugs. And the re-stenosis rates have improved thanks to those two changes.
Q: Tell us a bit about the research you're involved in.
A: My research interests are in the area of pulmonary embolism. I'm the medical director of the pulmonary embolism response team for Buffalo General Medical Center. So we're looking at different treatment modalities for acute pulmonary embolism.
Q: For our readers, pulmonary embolism is …
A: A pulmonary embolism is an acute blood clot that's gone to the lungs.
Q: Is that related to a heart attack?
A: No, it's a different process. Blood clots usually start in the legs, then migrate to the lungs. As a consequence, these patients can develop right-side heart dysfunction and other issues. So the research we're doing is to look at different treatments to deal with these types of blood clots and to look at the outcomes for patients who are hospitalized with pulmonary emboli. I've also been involved in clinical research trials looking at different stents and different durations of medical therapy after receiving medical stents. And I'm also an active participant in the multidisciplinary valve program studies and a part of the TAVR trials. That's transcatheter aortic valve replacement.
Q: And that's a minimally invasive procedure?
A: Yes, it's minimally invasive.
Q: When you're talking about structural heart disease, what does that include?
A: The conditions I treat are part of the TAVR program so, in layman's terms, we're talking about a hole in the heart.
Q: Are these usually congenital defects?
A: Yes, most of these are congenital conditions that can then lead to other issues down the road like stroke or right-side heart failure. If those occur, that's an indication to close these connections.
Q: Is that simply a matter of stitching the hole up?
A: We have devices. There are two devices on the market that are used to close the connection between the left and right atrium. It's basically an overnight, minimally invasive procedure with a catheter-based approach.
Q: As far as early intervention goes, what should friends, relatives or anyone near someone having a heart attack do to maximize their chance of survival — beyond the obvious 911 call.
A: I think the most important thing is that, if they're having an acute cardiac event, is to call for emergency assistance. It's an interesting question you're asking. So it's alerting emergency services and staying with that person until emergency services arrive. There are people in the community with training in basic life support, but getting them to the proper facilities is the most important thing.
Q: What is peripheral arterial disease?
A: Those are patients who have developed plaque build-up in the arteries to their arms, kidney arteries, leg arteries. The first line of defense is risk factor modification, like smoking, diabetes, hypertension. So we want to get active smokers to quit and get diabetes and blood pressure under control, and get a modified exercise program going. If there are limiting symptoms affecting their daily lifestyle, then we might consider revascularization, the opening of the blockages.
---
Lifelines
Name: David M. Zlotnick, M.D.
Position: Interventional cardiologist with Great Lakes Cardiovascular, a General Physician, PC practice; assistant professor of medicine at the University at Buffalo;
Hometown: Liverpool, NY
Education: SUNY Upstate Medical University; University of Rochester Medical Center. Postdoctoral training: chief resident, internal medicine, Dartmouth-Hitchcock Medical Center; fellowship in cardiovascular disease and interventional cardiology at Dartmouth-Hitchcock Medical Center; advanced fellowship in interventional cardiology/assistant staff at Ochsner Medical Center, New Orleans
Affiliations: Buffalo General Medical Center
Organizations: American College of Cardiology; American Registry for Diagnostic Medical Sonography
Family: Wife, two sons
Hobbies: Golfing, traveling, dining
---
In the News
Physician David Zlotnick is part of a team at Gates Vascular Institute that recently celebrated its 1000th transcatheter aortic valve replacement (TAVR) procedure. TAVR is a minimally invasive procedure to replace stenotic aortic valves that no longer function effectively. It is a milestone for Gates Vascular given that less than 30 sites in the US have achieved this goal. This procedure was formally reserved for only high-risk patients but is now available to those with a lower risk.
Treatment and care surrounding the TAVR procedure is performed by a multidisciplinary heart team led by physician Vijay Iyer. In addition to Zlotnick, the following physicians are part of the team: Janerio Aldridge, Hashmat Ashraf, Kinan Dalal, Gary Grosner and William Morris — all with Great Lakes Cardiovascular and Kaleida Health.