Roswell Park dermatologist talks about her new Depew practice, how dermatology treatments have changed and why people from climates like Buffalo may be more prone to get skin cancer
By Chris Motola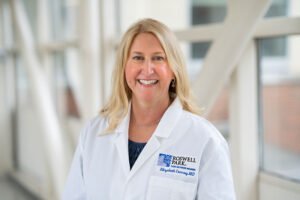 Q: You're going to be heading a new location for Roswell Park Dermatology in Depew?
A: The location is on Transit Road in Depew. It's very centrally located right off the Thruway, so I think people in the suburbs will have very easy access to the location. Patients who don't want to go downtown will still be able to get care in the Roswell Park community network.
Q: What is the composition of the practice at the new location?
A: In my office I'm the only dermatologist. I do have a physician's assistant. There's certainly capacity to grow. Our building has 11 exam rooms, so we have a lot of ability to take on providers as the practice grows.
Q: What treatments are available at the new site?
A: I'm a general dermatologist. I think in almost any dermatology practice a great deal of your practice is treating skin cancer. But I treat all dermatologic conditions. We can provide diagnosis, biopsy, surgery, so pretty much a full spectrum of therapy based on whatever the patient might need. Then if they do need something beyond what we can do in the office, being part of the Roswell Park network gives me access to colleagues and pathology and surgery and oncology. So that's a real benefit to patients, having that kind of network behind us.
Q: You're a Buffalo-area native?
A: Yeah, I was born in North Tonawanda. I went to school in NT, I went to Canisius for my pre-medical studies and I went to UB for medical school.
Q: It seems like there's a misconception in more northern, cloudier climates that there isn't much risk of getting too much sun. Is there any truth at all to that belief?
A: No, it's not at all true. Unfortunately, the biggest danger for skin cancer is melanoma. The people who are most at risk of melanoma are actually people who get severe intermittent sunburn. That's the kind of thing that people in climates like Buffalo do tend to do. They're so desperate to be outside once the weather gets good that they do go out and burn themselves and don't protect themselves. Or they go on vacation and are on the beach 24/7 and burn themselves so badly that it's hard for their cells to recover from the damage. And that sets them up for things like melanoma in the future. The other issue, which is becoming less prevalent now, but was a big draw for many years, is tanning beds. They were a big draw for people who were missing the sun and used them year-round and burned themselves. So no, unfortunately people in the Northeast are still at risk of skin cancer due to their habits.
Q: What would be considered a severe amount of sunlight exposure?
A: A severe amount of sunlight would be enough to cause a blistering sunburn.
Q: How have dermatology treatments changed in recent years?
A: The treatment has changed significantly in part because people are being more proactive about their healthcare. They're seeing specialists to get skin screenings based on their past histories. So things are being caught much earlier, where the surgeries are small and can be done in an office as opposed to in a hospital under anesthesia. There are also treatments for cancers other than melanoma like basal cell carcinoma and squamous cell carcinoma, which are much more common than melanomas. And they can be treated surgically. There are also prescription creams that can be used to help destroy the altered DNA in the cancers. So for patients who don't want or aren't candidates for surgery, those creams can sometimes be used in their treatment. And in the last five to 10 years, like the treatment of many metastatic cancers, melanomas can be treated with some of the more selective immunotherapies, which have increased the success of treatment in general to the point where we're using it now for some earlier stage melanomas to prevent them from metastasizing. And Roswell Park is at the forefront of that kind of research.
Q: Are most dermatological surgeries outpatient surgeries?
A: Yes, typically. Excisions or pre-cancerous and cancerous lesions primarily. We also do excisions of non-cancerous lesions like cysts and lymphomas.
Q: Are most of your patients referrals or do they come to you directly?
A: I think most of them come directly to tell you the truth. They come based on their knowledge of their family histories and preventive medicine. I do, of course, get many patients who are sent to me from primary care because their physician found something during an examination.
Q: I take it part of why patients come is because it's pretty easy to observe changes in their own skin?
A: Yes, it's a very visual field.
Q: How can a patient learn to differentiate between something they should have examined and something that might just be a normal variation in their skin?
A: In general, the great majority of skin cancers and melanomas are things that were not always there. So something that is new, something that is growing, something that is causing symptoms like itching, bleeding or hurting, those are warning signs to have that thing examined. Also if you're someone who gets heavy sun exposure, you should get in the habit of getting an annual skin examination so that you can be treated at an earlier stage if anything arises.
Q: What's the prognosis for a melanoma that's caught early?
A: Greater than 90% of melanomas are caught at a stage where they can be removed and cured.
Q: And an excision is usually enough to cure it?
A: Yeah. It's a big surgery. You have to take adequate margins to make sure you remove it all and that it doesn't come back. But it is curative for most patients.
---
Lifelines
Name: Elizabeth Conroy, M.D.
Position: Dermatologist at Roswell Park Dermatology
Hometown: North Tonawanda
Education: Medical degree from the University at Buffalo Jacobs School of Medicine and Biomedical Sciences; residency at Cleveland Clinic Foundation
Affiliations: Roswell Park Comprehensive Cancer Center
Organizations: Society for Pediatric Dermatology; Medical Society of the State of New York; American Academy of Dermatology, Women's Dermatology Society, American Medical Association
Family: Husband; four children
Hobbies: Taking care of elderly parents