Western New York boasts a variety of businesses providing dry salt therapy and salt cave therapy
By Amanda Jowsey
Halotherapy, also known as dry salt therapy and salt cave therapy, is an all-natural treatment with benefits ranging from improved lung function and skin health to increased immunity. It reduces stress and detoxifies your mind and body.
Here are the five best salt caves to try in Western New York, each offering its own unique spin on the halotherapy experience.
1. Serenity Salt Cave – Amherst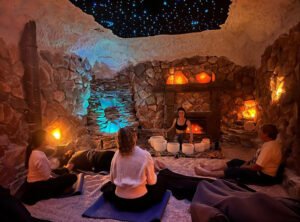 "We created our tranquil environment with the vision of serenity and healing, while maintaining the beauty of the Himalayan Mountains," states the business' website.
SSC also offers ionic foot detox, infrared sauna sessions and massage therapy as approaches to natural healing.
You can even have private parties and events for bridal showers, birthdays or any other special days you want to celebrate by honoring your mind, body and spirit. They can help you put together a "private, creative and totally unique event package for you and your group."
The business hosts a variety of classes and events like salt cave yoga pop ups, weekly Thursday yoga classes and classes for managing stress and seasonal changes.
Individual public salt cave sessions are $35 or $199 a month for unlimited individual sessions. Private sessions (up to four people) costs $119.
Serenity Salt Cave
2070 Eggert Road
Amherst, 14226
2. AURA Salt Cave and Wellness ­— East Amherst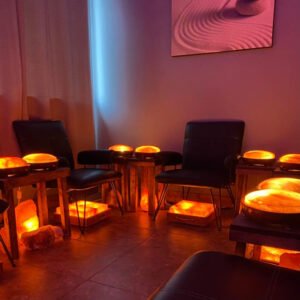 My first halotherapy experience was at AURA. I found it to be one of the most healing spaces in our area.
Owner Kelly DeBerg and her staff are caring, down to earth and can help you find the best all natural products for your holistic needs — from skincare to chakra balancing.
You can browse and shop its carefully curated selection of all natural Himalayan pink salt products, new age and metaphysical items including gemstones and crystals, CBD (teas, tinctures, capsules, topicals, waters), essential oils and diffusers, bath and body products, and so much more.
"We offer services unique to the alternative health and wellness community. Our focus is on all natural and holistic services for overall well-being of mind, body and spirit. Our mission is to offer a natural, holistic and calm environment where treatments are used to create a safe, drug-free alternative to provide relief and improve overall wellness for all ages," DeBerg said.
AURA Salt Cave and Wellness
6429 Transit Road, Suite 1
East Amherst, 14051
3. Southtown Salt Cave – Hamburg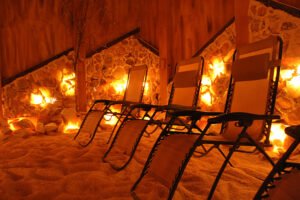 The owners of Southtown Salt Cave, Pam and Mike Toole, are registered nurses who understand the benefits of medicine as well as an appreciation of complimentary holistic health options.
Pam is also a psychic medium and reiki master.
They offer classes and workshops on a variety of wellness topics including mediumship and psychic discovery, essential oils, reiki certification, chakra education, Tibetan and crystal sound bowl healing, tarot in the cave, meditation and salt cave massages.
Southtown Salt Cave
140 Pine St.
Hamburg, 14075
4. Ellicottville Salt Cave Halotherapy Spa, Ellicottville
As described on its website, this is "Ellicottville's finest spa and only salt cave. Stop in, take some time for yourself and catch your breath."
Massage therapist and owner Tracy Draper was introduced to the holistic concept of halotherapy in 2013 and a year later, opened "North America's fourth authentic, European-built Himalayan salt cave in Ellicottville."
This Spa is in a gorgeous location surrounded by amazing little shops and dining spots in the heart of Ellicottville and ski valley. They offer the salt cave experience, infrared sauna, massage, foot treatments, glows and facials.
Ellicottville Salt Cave Halotherapy Spa
32 W. Washington St.
Ellicottville, 14731
5. Hearth & Haven Therapeutics – Lewiston
Its website describes this place as "Your haven for personal healing, rejuvenation, and release! As your sanctuary against the stresses of daily life, we offer a quiet respite against the hustle of modern living. Your peace is our priority."
This holistic wellness center, located in the beautiful village of Lewiston, is just a short drive from both Buffalo and Niagara Falls. While you're in the area, take a walk through nature at Artpark down to the Niagara Gorge for more natural healing benefits after your session.
Hearth & Haven Therapeutics
704 Center St.
Lewiston, 14092