How can you enjoy the holidays guilt-free (it's easier than you may think)
By Deborah Jeanne Sergeant
If you are watching your diet and trying to eat healthfully, the holiday season can seem a minefield of culinary hazards, from buffets to parties to food gifts. But it does not have to be.
While you may enjoy a few more treats than normal — no one wants to eat like the Grinch all season.
Mary Jo Parker, registered dietitian in private practice in Williamsville, recommends focusing on more whole, plant-based foods like fruits and vegetables and whole grains to increase nutrition and support good health.
Fruits readily available in winter, like oranges, apples, bananas and grapes and vegetables can provide vitamins, antioxidants and fiber.
"Serve flash-frozen vegetables steamed or in broth-based soups, for example," Parker said. "Use fresh vegetables raw, steamed or roasted with olive oil, herbs and spices."
She is also a fan of yams, sweet potatoes, baked potatoes, winter squashes and cruciferous vegetables, baked, roasted, in soups and stews and in casseroles. Offering a few choices at the family gathering can help you more readily fill your plate half full of these nutritious dishes.
Fill a quarter of the plate with a lean source of protein. Fish like shrimp, salmon, tuna or white fish offer omega-3 fatty acids that support good brain and heart health and reduce inflammation.
Parker also suggested preparing lean cuts of poultry and beef. Turkey or chicken breast, loin or round cuts of beef or game meat like bison or venison are naturally lower in fat and provide protein.
One-quarter of the plate can include carbohydrate sources. Whole grains provide more fiber and nutrients.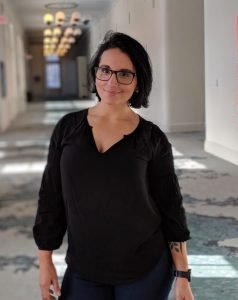 "Start by introducing one-third to one-half the amount of flour as a whole grain flour and the rest unbleached wheat flour or check for healthier recipe options," Parker said.
She likes Healthy America's Test Kitchen healthy recipes, Cooking Light and Eating Well.
Among the appetizers, low-fat cheese can provide protein and calcium as well. Eaten in moderation, a little fat can help you feel satisfied.
"Serve hummus, low-fat or non-fat dips made from plain yogurt or low-fat sour cream, salsa, guacamole with whole grain or black bean tortilla chips or whole wheat or whole grain crackers," Parker said.
Unsalted nuts and seeds are good sources of minerals, healthful fats and protein.
"Dark chocolate—70%-plus cacao—is a source of antioxidants," Parker said.
Preparing chocolate truffles with it or melting it for dipping fresh or dried fruit can offer a more healthful treat for dessert. Or layer fruit with yogurt for a refreshing parfait. Yogurt contains probiotics for a healthier gut biome and calcium.
Michele Memmo, registered dietitian at Nickel City Nutrition in Buffalo, encourages clients to make homemade cranberry sauce instead of relying on the canned product, which adds loads of sugar to an otherwise very healthful fruit.
"If they're fresh and you want to add less sugar, you can add less and it's more healthful," Memmo said. "Cranberries have fiber and antioxidants like vitamins A and C."
Sugar also adds empty calories to eggnog, which is otherwise a source of protein and calcium. Again, making it yourself using pasteurized eggs, and reducing the sugar or purchasing sugar-free is more healthful.
Imbibing during the holidays does not have to crash your healthful eating plan. Memmo said that diluting drinks with sparkling water, juice drinks or Crystal Light can lower the amount of calories.
"Keep in mind that if there's nothing to portion your alcohol, ask for tablespoons or shot glasses," she added. "Alcohol typically comes in ounces to an ounce and a half you don't know what you're getting if it's poured into a glass."
4 Ways to Handle Holiday Parties
As you attend holiday celebrations, you can plan to make better choices.
Michele Memmo, registered dietitian at Nickel City Nutrition in Buffalo, offered a few strategies for attending holiday celebrations.
1. Eat before you go. "One thing I encourage people to do is if they're worried about overeating, ask what time the party is and plan ahead. People might think that not eating the whole day is the best thing to do but it's the worst thing. If the party is at 4, have a normal breakfast and lunch and snacks. Try to eat during the day before you go. You'll be satisfied with a smaller plate.
2. Avoid sitting near the food table. "If you know you'll have sugary choices, make sure you're not standing near the food table. Try to avoid being seated near or stand near the food table or hanging around the kitchen.
3. Practice mindfulness. "I don't tell people to avoid cookies because we'll be tempted to overeat. Practice mindfulness. If you want one or two cookies, have them. If you want them later, take them and have them at another meal. Know that you enjoy the two cookies you had and another two another times.
4. It's OK to say 'no.' "If someone made a food gift for you or brought a treat for you, it's OK to express your feelings. It's OK to say, 'No.' or 'I'll pass.' Or, 'I will take it home with me.' Reach out later and say how you tried their dessert and how good it was and why you're not eating it at this time, like, 'I'm trying to lose weight' or 'I'm trying to have better eating habits.' Let people know you didn't just put their hard work to the wayside. It shows you care during the holidays."