By Jana Eisenberg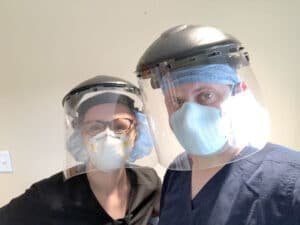 The pandemic hasn't stopped Jericho Road Community Health Center from caring for the populations it serves — partly thanks to the philosophy of its founders, physician Myron and Joyce Glick, and its experience working through health crises.
"Pretty early on, when we started seeing COVID cases in Western New York, Dr. Glick called me and Dr. Gable, our COO, and said, 'We need to talk,'" said physician Allana Krolikowski, Jericho Road's chief medical officer. The nonprofit, patient-centered medical home has four locations in Buffalo, and global outposts as well. "From experience with our clinics in Sierra Leone, where they have been through Ebola, he knew that we had to start screening people at the door immediately."
Myron Glick, a medical doctor as well as a deeply spiritual person, founded the healthcare organization with his wife in 1997, followed by a ministry in 2003 sharing the Jericho Road name.
It has gone through several organizational changes over the years, and are now combined into one entity; its current mission statement — "Jericho Road Community Health Center provides wholistic healthcare for the underserved and marginalized communities in Buffalo and across the world in order to demonstrate the unconditional love of Jesus" — succinctly defines the organization, and the attitude of its staff and medical personnel.
Myron Glick was moved to start the health center after having worked with government agencies, performing refugee health assessments when people were arriving in Buffalo from other countries.
"Not many doctors want to serve these populations," said Krolikowski, speaking by cell phone while conducting rounds at a Buffalo hospital. "We serve the most vulnerable patients — more than 50% of them don't speak English. Immigrants and refugees are [more or less] a low-income population, and are often also challenged by other social determinants of health, like access to transportation, education level, and financial, food and housing insecurity. More than 75% of our patients receive Medicaid."
The organization does not refuse patients who don't have insurance or funds to pay for care.
"The majority of our clients have come from other countries; it's often their first time in any health system, and they don't know how to utilize it. We help them learn about and navigate it," she continued.
The organization is well-respected in the broader community, and has deep partnerships with hospitals and nonprofits, like Kaleida Health, Safety Net Association of Primary Care-Affiliated Providers of Western New York (SNAPCAP), and the Greater Buffalo United Accountable Care Organization (GBUACO). It now has 340 full-time and part-time employees, and, in 2019, served 20,058 patients.
"At the end of April, when we saw COVID rates going up on Buffalo's East Side, a group of agencies came together to offer barrier-free, walk-up, no-appointment community testing days. We have stopped doing those, but still offer testing to those who want it — including those who are not existing patients. We also have changed the spaces in our buildings so we have areas where 'well' patients are seen, and where, if you've tested positive for potential COVID, you can be isolated," Krolikowski said.
In March, the center and its locations were at around 70% capacity for completed visits, with a focus on keeping patients safe and ramping up outreach to connect with the most vulnerable ones. During that time, Jericho Road saw overall visits change to 50% telehealth (including phone and video visits).
As of Oct. 8, the organization tested over 11,000 people for COVID-19; 1,044 have been positive. After a positive test, Jericho Road staff counsels and follows up with patients, most of whom do not have a severe cases of COVID-19, and can self-isolate and get better at home.
It's not easy to navigate the constant changes and uncertainty in life and in work during the pandemic — morale can be affected.
"For our staff, especially the ones still working from home, our director of spiritual care and wellness organizes things on Google hangout," she said.
In addition to "straight medicine," including women, children and maternity care, Jericho Road also deals with what Krolikowsi mentioned are social determinants of a person's health, like assistance applying for insurance and benefits and spiritual and behavioral health counseling.
"During the pandemic, we've seen increases in anxiety and depression," she said. "Because our behavior health team was already operating in an overall medical model, we were able to safely stay open and provide good in-person care for patients—whether they were a current behavioral health patient or not." The behavioral health team offers both video and phone visits, as do the various medical teams and locations.
Pre-pandemic, Jericho Road also offered ESL classes, and legal assistance and shelter for asylum seekers through its Vive program; while they are not accepting new clients at the shelter, asylum seekers can still contact the program for assistance.
For more information about Jericho Road Community Health Center and all their programs and services, visit their website at www.jrchc.org.
Photo: A child being examined by a physician at Jericho Road Community Health Center. The center in 2019, served 20,058 patients.