By Julie Halm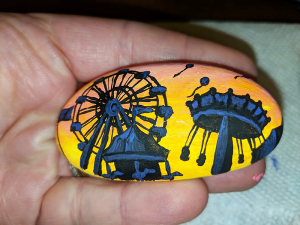 The idea behind Sweet Buffalo Rocks is simple — decorate a rock with a sweet message or beautiful image and hide it so when someone finds it, their day gets a bit brighter.
When Kimberly LaRussa founded the organization after hearing about a similar group in her hometown in Florida, she would simply go to the park with her son to hide rocks.
"Everyone thought I was cuckoo," she said, laughing.
The action was simple but the message she was sending her young son was something she felt carried a lot of weight.
"It's just so important that we all teach our kids and our future leaders about caring about one another," she said. "We all just need to find ways to give back. You don't have to paint rocks to do something nice, just do something for someone else."
Apparently, LaRussa is not alone in that belief. The community of people looking to brighten up Buffalo has grown to a whopping 32,000 people on Facebook alone, and the goals have grown as well.
This summer, LaRussa officially made Sweet Buffalo Rocks a nonprofit organization so that she could help people who need a bit of a lift.
Since its inception, the organization has gotten involved with Oishei Children's Hospital, raised funds for individual children battling cancer and financially assisted the family of a 25-year-old woman who died of leukemia, including her two young children. For LaRussa, bringing joy is a broad spectrum project and she's always open to hearing about those who deserve a hand.
"Maybe a kid is having a difficult time and just wants a puppy and we can sponsor that puppy's adoption fee," she said.
The recommendations for those who need a hand come mostly through word of mouth and organizations throughout Western New York are getting on board with Sweet Buffalo Rocks' altruistic aims. Sweet Buffalo Rocks had a large interactive display at the Erie County Fair and she has been in contact with the Buffalo Police and plenty of businesses and festivals looking to help hold an event or host the group.
Recently, the Buffalo Chapter of the Awesome Foundation awarded Sweet Buffalo Rocks a $1,000 grant which assisted with bringing the rocks, a plaque and a party to the little ones at Oishei Children's Hospital. The Awesome Foundation describes itself simply as "a global community advancing the interest of awesome in the universe, $1000 at a time."
Trustees — simply residents of a particular community — contribute their own money to fund the ideas deemed to be awesome.
They and LaRussa share the basic endgame of making Buffalo a happier place.
LaRussa wears many other hats, including being a mom and a writer and running Sweet Buffalo Rocks can be a demanding task, particularly as the group grows and expands so rapidly. That burden is one that she bears happily, however.
"I just feel like it's my calling. I've never felt so strongly about something in my life. When it comes to something that you feel God has brought you here for, there's a reason this has been put on my plate," she said. "I feel like I have a purpose now and that's to show people we can all do something great for one another and it doesn't have to cost a lot of money and it doesn't have to be something huge to make a huge difference in someone's life. I feel like I need to give back and do something for other people because I feel so blessed."
And LaRussa has no intention of stopping or even slowing down.
"This is going to be huge one day. It's not going to stop," she said. "If I talk to you in five years, this is really going to be something. I can't imagine how many kids and families will be impacted in Western New York."
To learn more, visit www.facebook.com/groups/sweetbuffalorocks.