They and other healthcare providers are front-line responders in the battle against COVID-19. Thank a nurse — May is Nurses Month.
By Deborah Jeanne Sergeant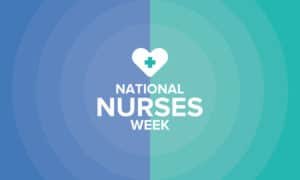 Nurses perform tasks that few other people could do as they care for patients who are sick and hurt.
Currently, the role of nursing has taken on even greater significance, as nurses and other healthcare providers are frontline responders in the battle against COVID-19.
The nature of their work places them in direct contact with infected and possibly infected patients every day. Nurses provide the physical and emotional care patients need, especially while isolation prevents loved ones from visiting.
While recent events have drawn the public attention to nursing as they work long hours — sometimes with insufficient supplies and equipment — caring for COVID-19 patients, the industry has long experienced staffing difficulty.
As of May, 209, 178,320 registered nurses work throughout the State of New York. Of those, 12,280 work in the Buffalo area. Even outside of the pandemic, nurses often work under circumstances unlike most other positions in healthcare and stressors not known in many other industries.
It's commonplace for nurses to care for eight or nine patients at a time on a particular shift. This problem has prompted the New York Nurse's Association to promote the statewide Safe Staffing for Quality Care Act, which supports nurse ratios, staffing for acuity, publicly disclosed staffing levels, maximum number of patients assigned to an RN, and more. Most of the ratios are 1:1, such as trauma and surgery to 1:3, such as newborn nursery. Rehabilitation and subacute nurse-to-patient ratio is 1:5 and the highest is the well baby nursery at 1:6.
Nursing education began as much less formal than now. Caring women learned the folk remedies and wisdom passed down from experienced elders. While the standard now is two years' education to become a registered nurse and four years to earn a bachelor's (BSN), the industry in New York has moved toward a required four-year degree as the standard.
As of 2020, New York students beginning their studies may complete an associate's degree and then have 10 years after they receive their RN credential to complete their BSN degree. The goal is to improve patient outcomes through improving nurses' critical thinking skills.
New York is the only state to pass such a measure — and it took a decade for New York to pass the law. It's likely that the nationwide nursing shortage plays into other states' decisions so far to resist laws such as this.
According to the National Nursing Workforce Study, half of current RNs nationwide are 50 or older. In addition, the Health Resources and Services Administration estimates that within the next decade, over a million RNs will retire from nursing.
Historically, women have dominated nursing; however, in recent decades, men have become more commonplace in the field. In New York, 157,439 women were working as nurses as of 2017. Male nurses numbered 11,048, according to Kaiser Family Foundation. Nationwide, about 12% of RNs are male, up from 2.7% in 1970, states the Bureau of Labor Statistics. Part of the reason may lie in the fading stereotype of nursing as "women's work" and the sharp increase in the need for nurses. With more nurses retiring and the aging baby boomer population increasing the demand for healthcare, nursing represents one career path with a guarantee of available employment.
While the $76,120 annual mean salary in the Buffalo area is a good salary, nursing is taxing work which often involves long shifts, unpredictable hours (depending upon the place of employment) and heavy responsibility.
Despite this, many nurses refer to their occupation as a "calling" that they feel privileged to perform. Since May is Nurses Month, take time to thank a nurse you know.