The grassroots organization was founded by patients in Buffalo
By Jana Eisenberg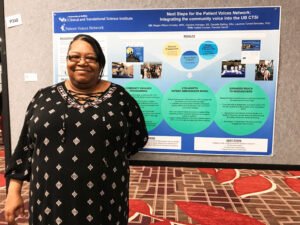 Meet Pamela Harold of Buffalo: she has diabetes, heart disease and is receiving dialysis treatment for kidney disease. But she is more than a passive patient. 
Harold works at Patient Voices Network, a grassroots organization founded by patients in Buffalo who wanted to explore how healthcare for patients in their own communities could be improved.
Harold is both a provider and a recipient of PVN's "services," advocating for herself and assisting others to do the same. PVN also educates about preventive measures, including understanding your family health history and the importance of health screenings. PVN helps Harold and others to be more confident, and to have the tools to ask for the required support, information and care.
PVN partners with Associate Professor Laurene Tumiel-Berhalter, the director of community translational research in UB's Jacobs School of Medicine & Biomedical Sciences' Department of Family Medicine.
The idea for the network came about after some of its founders participated in a research focus group in 2010. The focus group brought together healthcare providers and patients; a side-effect of the research was empowering community members to realize that they could be more active in their own care. And the providers—from UBMD Jefferson and Jericho Road Community Health Center—listened.
"Those focus group discussions made me feel better about my primary care clinic; they wanted to know what was and wasn't working," said Harold. "After the study ended, we—the patients—were still fascinated that the clinic wanted to hear from us. And one of the biggest things that we wanted to address was the low number of mammograms that were being done for women of color."
PVN began with the aim of increasing those mammograms. After trying several tactics, like a breast cancer walk, they ended up partnering with the healthcare practices to run an on-site mobile mammogram unit. It wasn't immediately successful. But when it both didn't interfere with the clinic staff's other work and did increase the number of mammograms, things got better.
"We're here to do as much as we can for the community, to understand how to be better patients and advocates. Then we had to teach doctors how to be better; how to speak with patients," said Harold.
PVN developed a questionnaire that its "patient ambassadors" help patients fill out in advance of going to an appointment. The questionnaire lists, among other things, all of a person's medications; filling it out ahead of time helps patients focus on their goals.
"We call people before their appointment; go through the questions with them," said Harold. "We say, 'Your appointment is only going to last 15 to 20 minutes, so you need to tell the doctor what you've been feeling, what you are there for'; ask about lab work; ask the doctor what you can do to be in better health."
"I am amazed how people open up when speaking with PVN ambassadors," said Tumiel-Berhalter. "People don't necessarily want to tell a doctor they're struggling, and perhaps can't afford their medication or that they can't get to a colorectal screening because of transportation or childcare. The PVN ambassadors are not judgmental; they offer support and connect people with resources, even referring them to 211 WNY [a free and confidential link to health and human services]. They get to the heart of the matter in ways that neither I nor medical providers can."
The PVN has tackled patient education, alerting the medical practices they work with that more training was needed for diabetes management techniques, like how to use a glucometer. And, they're committed to making follow-up calls after patients have had health screenings.
"The standard-of-care in our culture is 'no news is good news,'" said Tumiel-Berhalter. "But that doesn't work for everyone. PVN realized that patients like having the loop closed—to know that there's that continuing to support and care."
The healthcare practices started asking PVN for more help, which they gladly provided. In their work with Tumiel-Berhalter and other researchers, the PVN members insist that any research projects that the community participates in must have a positive impact.
"I never thought that I'd be working with Patient Voices this long," said Tumiel-Berhalter. "The passion and impact of these amazing people…they've done wonders to help people, improve health care and compel us to do work that's important to people. We could all benefit from more community voice."
To learn more about PVN, visit patientvoicesbuffalo.com or facebook.com/patientvoicesbuffalo or call 716-816-7219.
Photo: Laurene Tumiel-Berhalter, PVN members Timothy Geiger and Christopher Harper (with Buster Bison) man an information table at a Men's Wellness Event hosted by Rich's Products in 2019.