Bicycle club holds weekly group rides year-round throughout Western New York
By Daniel Meyer
If you know how to ride a bicycle, enjoy getting fresh air, want to stay physically fit and enjoy interacting with other people, the Big Wheels Bicycle Club wants to speak with you.
The non-competitive open road cycling club was established over half a century ago with the mindset of offering people of various skill levels the opportunity to have a safe and enjoyable bike riding experience with others. With approximately 100 active members, the organization provides unique settings before, during and after group rides to meet new people and establish friendships with group rides held every day of the week from the beginning of April through late October.
"It's a great group of people because everyone is so helpful and supportive," said Karen Teresi, a resident of Tonawanda who has been involved with the Big Wheels Bicycle Club for the past six years and currently serves as the group's treasurer and membership chairperson. "It's particularly a great club because we don't leave anyone behind and fully embrace the group concept. We all work together and have fun doing it."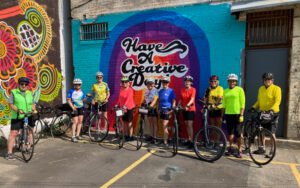 The group rides include people of various ages and experience level, with the majority of the riders being over age 30. Riders who are under the age of 18 can participate but must be accompanied by a parent or legal guardian. While based in Tonawanda, the cyclists travel throughout the northern portion of Erie County and parts of southern Niagara County, with scenic excursions to various points of interest all across Western New York.
Each ride has bicyclists grouped into three clusters based on experience: casual, intermediate, and advanced. The casual riders normally ride about 10 miles per hour for anywhere from 10 to 15 miles, while the intermediate grouping will ride about 12 to 15 miles per hour for roughly 25 to 30 miles. The advanced contingent will cycle consistently at 15 miles per hour and normally take a journey that is at least 40 miles long. Weather conditions and the total number of riders for each week may impact the expected ride speeds and total distance traveled, but club members say every gathering results in a fun and festive atmosphere with the goal of making everyone involved smile and share in the enjoyment of exercising while being outdoors.
"We are a fun and friendly and extremely social group of people," said Bill Gucwa, a 76-year-old resident of Tonawanda who serves as the president for the organization. "It actually feels like a family with how we have established relationships with each other and look out and care for one another."
The open road rides lead participants to various destinations throughout the region, including but not limited to downtown Buffalo, Niagara Falls, Lewiston, East Aurora, Clarence and even Southern Ontario. Routine group rides include morning and evening excursions Monday through Friday, along with morning rides on both Saturday and Sunday. Most of the morning rides include a brief stop somewhere along the way to enjoy a meal and engage in casual conversation.
The flexibility of the club allows for the introduction of new riding routes and special occasions that include holiday-themed rides and an annual banquet to recognize all participants and praise those riders with the top mileage tallies for the year.
Members of the Big Wheels Bicycle Club pay annual membership dues of $20, a fee that covers an individual rider or an entire household. Anyone who joins is asked to own or have access to at least one lightweight geared bike or a pedal assist e-bike that is in good, rideable condition with spare inner tubes that fit each wheel in case of a flat tire. A bicycle helmet and at least one mirror mounted to the bike are also mandatory for all members.
"If you want to be active, especially if you are retired, I encourage anyone to contact us, even if you are a beginner," said Teresi, who turned age 70 this year. "I think it's also important for everyone to know that we are cautious and always aware of our surroundings, especially when it comes to other traffic. Being conscious of safety and obeying traffic signals and stop signs is a priority."
How to Participate
For more information about the Big Wheels Bicycle Club, including upcoming ride times and locations and details on how to apply to become a member, call (716) 308-4127 or visit www.bigwheelsbikeclub.com.