Paws for Love: lending a comforting, helping paw
By Nancy Cardillo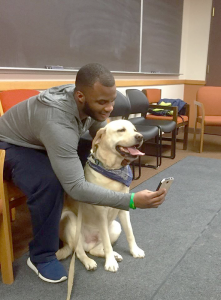 Some might call Carma a "lucky dog," because she loves her job so much. She looks forward to meeting and greeting the passengers and employees at the Buffalo Niagara International Airport (BNIA).
The babies are her favorite, but she quickly warms up to anyone who smiles her way, comes over to say hi or asks her to pose for a photo. She also appreciates the rewards of her job: a warm hug, a heartfelt thank you… or a biscuit or belly rub.
You see, Carma is a certified therapy dog through the SPCA Paws for Love program. Her human, Anne Hart of Niagara Falls, has volunteered for Paws for Love for approximately 17 years, first with her dog, Samantha, and now with Carma, a 4-year-old beagle/Jack Russell terrier mix rescue pup.
"I started bringing Carma to the airport in 2014," says Hart. "We are there every week for a two-hour shift. Mostly, we focus on calming nervous passengers, but we also visit the employees, as working in an airport can be very stressful. Whenever anyone sees Carma, it immediately calms them down, refocuses their attention and helps pass the time more pleasantly."
Hart tells the story of one young traveler at the airport — a girl around the age of 10 — who had cerebral palsy, was paralyzed from the waist down and confined to a wheelchair. When the little girl spotted Carma, her parents heard her speak her first word ever: "Doggie!" "With her parents' permission, the little girl gave Carma a biscuit. Carma started kissing her and as she smiled from ear to ear, we were all tearing up watching!" says Hart. "Things like this happen all the time, and that's why I love volunteering for this program so much."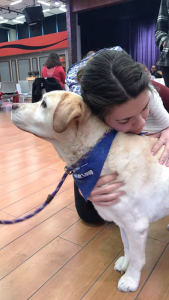 Run completely by volunteers, Paws for Love is unlike any other program offered by the SPCA.
More than 400 volunteer pet owners bring their gentle dogs and cats to roughly 100 area nursing homes, assisted living facilities, group homes, Hospice locations, children's facilities, the Family Justice Center, area colleges and the airport to provide affection and comfort, to alleviate stress and anxiety and to brighten the days of the people with whom they come in contact.
When Paws for Love began visiting BNIA in 2013, Buffalo was just one of seven cities nationwide to offer such a program. Today, it is the second-largest city (behind Los Angeles) to offer this service at an airport, with more than 50 volunteer teams that visit on a regular basis.
Debbie Braun, Paws for Love volunteer program coordinator, says all dogs and cats are behavior tested by certified behavior specialists at the SPCA before they are accepted into the program and, while breed doesn't matter, the animals must possess certain qualities. They must be comfortable with strangers approaching them, with being touched, being in public situations and being comfortable around crutches, wheelchairs and other medical equipment.
"Basically, we look for dogs and cats that are calm, friendly and good around people and in different situations," says Braun.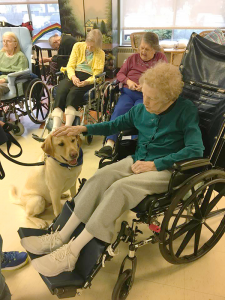 Once the pet passes the test, the pet owner can select the specific facility they want to visit, whether it's a location close to their home, a facility where a loved one resides or one that has another special meaning to them.
There's no cost to the facility — Paws for Love is a community service offered by the SPCA — and there are often certain restrictions volunteers must adhere to. For example, a hospital might dictate which floors are off limits. "Once we match a pet owner to a location, it's up to them to decide what works best, and it's usually a mutuallyconvenient, flexible situation that benefits everyone.
"I'm proud to say our volunteers put in well over 5,000 hours each year in our community," says Braun. "They do room visits in hospitals, attend events, provide stress relief at area colleges, are read to by school children — they even sit in courtrooms to provide comfort to victims of domestic violence. The only place we can't go, for insurance reasons, is into private homes."
Paws for Love is always seeking new volunteers, as the program gets regular requests from facilities seeking volunteer pet teams. To volunteer, a person must be 18 years of age or older, friendly and outgoing, have a good relationship with their well-trained pet, be comfortable taking their pet into different situations and have transportation.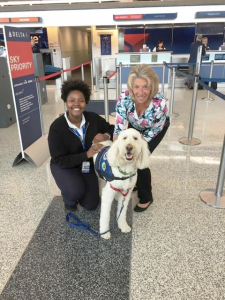 Anne Hart and Carma also make regular visits to a local daycare program for adults with moderate to severe Alzheimer's. "Here are people who have severe memory issues, yet when we walk into the room, they all recognize Carma!" says Hart. "Carma, of course, loves the attention, and I love the smiles I see on the faces of the people we come in contact with!"
---
Interested in Being a Volunteer?
If you're interested in learning more about Paws for Love, visit www.yourspca.org/spca-paws-for-love. If you'd like to volunteer or if you represent a facility interested in visitation, contact Program Coordinator Debbie Braun at pawsforlove@yourspca.org (preferred) or at 716-681-0744.