Some other health issues developed unnoticed during the pandemic
By Deborah Jeanne Sergeant
Various facets of the COVID-19 pandemic have affected health in a variety of ways that healthcare providers did not expect at its onset. 
While illnesses from coronavirus captured the world's attention, other health issues developed unnoticed. One of the reasons is that routine and preventive care plummeted.
"When the pandemic started, most busy schedules of providers were almost nothing as patients were afraid to come," said Joseph Fasanello, a family physician with Trinity Medical Primary Care in Kenmore. "Preventive visits were almost nonexistent. I saw it among all age groups. It's starting to improve, beginning in early 2021. It's almost—knock on wood—back to normal."
That means that many people skipped regular physical examinations. All health screening visits ceased entirely for weeks. Some patients skimped on care for chronic health issues like diabetes and hypertension. Even after the quarantine was lifted, many patients feared visiting the hospital or doctor's office.
"I've already seen upticks in preventable diseases," Fasanello said. "Just going to screenings for chronic disease wasn't happening. We weren't doing things like mammograms, diabetes monitoring, cholesterol. I've even seen some fatalities in patients, unfortunately, that possibly could have been prevented had they had their screenings on time.
"Patients have been more hesitant to go to the hospital if they're ill. One had chest pain and refused to go to the ER at the height of the pandemic and had a heart attack and died. I have seen those types of dramatic things lessening now that the vaccine is more widespread and the protocols."
He also noted that mental health has deteriorated throughout the pandemic, as those with pre-existing mental health conditions have neglected their care and additional cases of mental health issues have cropped up because of the stressors associated with the effects of the pandemic.
As a positive result of the pandemic, telehealth has helped more people connect with healthcare providers for routine matters. Before COVID-19, few were interested in it. Fasanello said that his office adapted to telehealth early on in the pandemic.
Many older adults have struggled in a variety of ways during the pandemic, including physically, since they lacked a means of engaging in physical activity such as at a senior center or gym.
"It's impacted them socially," said Laura Greene, a center manager of Catholic Health Life Program at Villa Maria in Buffalo. "Everyone has experienced increased isolation, but that population can't necessarily get out of the house otherwise."
Her organization typically provided transportation to a senior day center for socializing, entertainment, activities, a hot lunch, and as needed a visit to the clinic. COVID-19 changed all that.
"They lost a lot of that connection," Greene said. "As a result, we've seen some impact on their physical health, cognitive health, mental health. We've tried to improvise to find other ways to stay connected to mitigate the impact on those areas of functioning."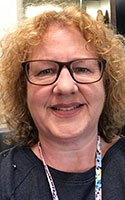 Outfitting clients with GrandPads—a tablet especially programmed for use by older adults—has helped reduce the isolation caused by the pandemic. Virtual programming like bingo, tai chi, entertainers, meditation, Bible study and all kinds of discussion groups help relieve isolation.
"They can add their family and friends to the device," Greene said. "They can stay in their home socially distanced and still talk with their children, grandchildren and friends from the center they're not seeing right now."
She added that without mental stimulation and socialization, many older adults experienced cognitive decline. Staying secluded for months was harder on older adults who may not have as many social connections. Many have experienced relatives and friends passing away and do not have family living nearby.
Virtual meetings have also helped connect older adults with dietitians and other experts to keep tabs on their health.
"Long after the pandemic is behind us and we're back to normal functioning, I think we'll maintain the GrandPads for that reason," she said. "If they're not interested in coming or for whatever reason can't get out, it can be a way to connect. There are games and music on it that they can benefit from."
Dental health providers have noticed a few other effects of the pandemic. Amanda Dotterman, dental hygienist at Advanced Dental, PC in Niagara Falls, said that many patients have presented with broken teeth.
"People were very stressed, clenching and grinding during the pandemic," she said.
During the early part of the pandemic, all routine care was delayed, including dental care.
"With the delayed treatment, there are risks that things will happen because we're not looking for them," Dotterman said. "I've seen an increase of cavities, tartar build-up and—because people are drinking more wine, stains."
Frequent stress munching on sweets and constant access to food while at home has meant many people have new cavities. Now that the backlog at dental offices has cleared up, Dotterman wants people to make sure they come in for a check-up.