'Schools and community-based organizations could get overwhelmed with mental health needs in the coming months'
By Michael J. Billoni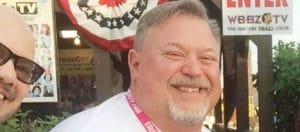 Matthew G. Smith is executive director of Preventionfocus, Inc., which has been offering programs and strategies to prevent drug abuse and promote health in Erie County since 1979. Its mission is "making safe and healthy happen by empowering individuals to make positive choices." Presently, Preventfocus has 12 associates and a budget of $800,000 with most of its funding from the New York State Office of Addiction Services and Supports (OASAS). It also receives support from fundraisers and donations through its website, preventionfocus.org.
Q. Where does Preventionfocus operate?
A. "Each year, the trained prevention specialists of Preventionfocus serve nearly 5,000 elementary, middle, and high school students in Erie County through multi-session curriculum-based programs. In addition, we offer workshops, trainings, special events, and we support grass roots community coalitions."
Q. What are your concerns from issues we are facing today and how are they affecting families?
A. "Families are under unprecedented levels of stress. We are still in the midst of an opioid epidemic, COVID-19 has been with us for months and will be for quite some time, and now civil unrest is dominating the headlines. Parents and kids are dealing with fear. Will I get sick? Will there be a job loss or has there already been one? What about the public demonstrations? Some parents are trying to do their jobs remotely while caring for school-aged children that need to do online work. All of this stress and worry can be traumatizing and for many, will be felt long after this period of crisis has passed. Schools and community-based organizations could get overwhelmed with mental health needs in the coming months. Most organizations charged with dealing with these issues are government funded and if funds are cuts, they may not have resources to meet demands for their services."
Q. If family members are experiencing drug, alcohol or mental health issues during these times what can they do?
A. "Call Crisis Services at 716-834-3131 or its addiction hotline at 716-831-7007 where experts will assess the situation and make recommendations. They can also contact Mental Health Advocates at 716-886-1242, which is knowledgeable about local services, offers virtual support groups and has a great resource guide on its website. If you notice changes in a loved one's behavior ask them about it. Help is available, even in this time of COVID-19."
Q. What about parents' behaviors as it relates to their children during this time?
A. "Parents need to take care of their own well-being so they can take care of others. Make time to walk, meditate, yoga or whatever coping strategy you'd like to employ. It's hard to parent when stress is going unchecked. Also, be aware of the example you are setting. There has been a huge boom in alcohol sales and increases in reports of people drinking during the day. Kids are always watching and what they see parents do will have a great impact on their future choices. I encourage parents to visit TalkItOver.org, a website for parents to help them have important conversations with children about alcohol, drugs, gambling, mental health and other topics, including a new COVID-19 section. It's organized by topic or age of the child so the conversations can be developmentally appropriate. Since parents and kids have some extra together time, why not check it out and 'have a talk?'"
Q. Describe some of the Preventionfocus programs?
A. "Too Good for Violence," "Too Good for Drugs," "SPORT" and "Life Skills Training" cover empathy, communication, conflict resolution, building relationships, self-esteem, and information on alcohol and other drugs and are all listed on the National Registry of Evidence-based Programs and Practices (NREPP). The programs employ engaging hands-on activities to deliver the facts students need and build important skills like decision-making, setting goals, and solving problems, among many others. We also facilitate several suicide prevention programs for school and community groups and we offer workshops and materials on a variety of other topics."
For more information, visit preventionfocus.org or call 716-884-3256.