By Julie Halm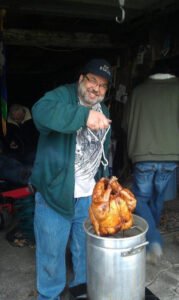 When Danielle Lindsey found out that her mother had been diagnosed with COVID-19 on Easter weekend, she says she knew it was just a matter of time before her father also came down with the then-novel illness.
While her mom, who works in a local health care center, took as many precautions as possible, the proximity of she and her husband was simply too great and the virus spread within their home.
Her father Harry had pre-existing health conditions and Danielle said that from the moment of diagnosis, she did not foresee a positive outcome for her father, who was then 62.
"I already knew he had comorbidities, so right then and there I knew in my gut," she said.
That feeling was an informed one, however, as she herself is a licensed practical nurse and has worked at Buffalo General Hospital as well as in the Buffalo Public School System. In her time at the hospital, Danielle was an aide, which she said has helped her become the nurse that she is today and understand medical surgical health concerns. Currently, in addition to BPS, she is at Father Baker Manor Nursing Home and is dealing first-hand with the ramifications of the pandemic such as people not being able to visit with loved ones and students being unable to come to school.
When her father became ill, Danielle said that he experienced a headache, body aches, a fever and some shortness of breath before he sought care. When he did go to an emergency room on April 19, he was diagnosed with pneumonia and sent home with an inhaler to recuperate. That was a mere two days after he began feeling unwell.
The day after seeking emergency care, Harry had a pulse oximeter reading of between 84 and 88 — a normal reading is roughly 95% or above — and he was able to get tested for the COVID-19 virus. The following day, the results confirmed what Danielle said she already knew. He was positive.
Before he was admitted for medical care, Harry's blood oxygen saturation plummeted to 73% and he was admitted to St. Joseph Campus hospital for treatment.
Communication was entirely digital as visitors were not allowed to be present, and while the calls and video chats were a small comfort, the experience was immensely challenging for the whole family.
"I think it was more frustrating because he was scared and you could see it in his eyes and you could hear it in his voice," Danielle said. "He just knew he wasn't coming out."
Danielle's father began making phone calls to his daughters and sons, family members and old friends, just to say goodbye.
As his condition steadily worsened, the chats with his family members got harder as Harry was put on a ventilator and then had to remain prone on his stomach in order to keep breathing.
"Most of our video chats — which I still appreciated every single one we did have — was like, what do you say to this guy who is swollen and black and blue," Danielle recalled. She said it was hard to recognize her own father as the virus progressed.
When doctors felt there was nothing more to be done for Harry, Danielle was able to see her father in person one last time, an experience she cherishes despite how upsetting it was.
The visit was not, however, what most people are granted when seeing a loved one out of the world. There were only 10 minutes to be had, with a full suit of personal protective equipment between a father who was reaching the end and a daughter who had come to say goodbye.
On May 11, Harry died, leaving behind his wife, seven children, 20 grandchildren, three great-grandchildren and all of the future years that a family will be missing their loved one because of COVID-19.
Danielle says that despite what she has witnessed and what she has lost, she understands that people require connection with one another, but urged others to be thoughtful in their interactions, especially as cases have risen again recently.
"My suggestion is stay with the immediate family members who you have been with, who you know aren't galivanting around," she said. "You can only stay in the house so long, you have to live a little, but be cautious."
Photo: Harry Lindsey of Cheektowaga presents a bouquet to his daughter Danielle of Hamburg as she graduates from Trocaire College, where she Became a licensed practical nurse. He died of COVID-19 in May. "He remains my motivation and I know he's looking down on me and guiding me through this thing we call life," his daughter said.