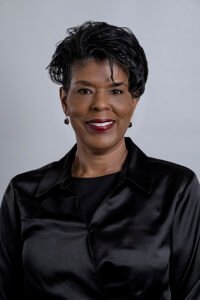 Sophia Overton serves as clinical nursing instructor at UB. Overton's route to her current role is rather serpentine.
She had always wanted to work as a nurse since she was 14. She completed an LPN vocational program while in high school but worked a few different jobs instead. Although she "took a few turns in life," she returned to the career two decades later at age 36.
Her company was laying off employees, which caused her to think, "What do I want to do now?"
That contemplation took her back to her original plan: to become a nurse. She completed her associate degree at Niagara Community College, her BSN and master's degree at Daemen, and is currently enrolled in UB's program for psychiatric mental health nurse practitioner, which she anticipates completing in 2026.
"I want to reach my fullest capacity," Overton said. "The LPN was just a steppingstone to a bigger place in life."
In the meantime, she has worked in several roles, including hospice nurse, long-term care, school nurse, registered nurse case manager, a correctional staff nurse, a quality support nurse investigator, a behavior health nurse and clinical nurse educator.
Much has changed in healthcare since her early introduction to it as a teen. Most of all, the technology and equipment has changed, such as mercury thermometers common during her teen years to the electronic thermometers used now.
The nurse-to-patient ratio has also changed, from 20 patients to much lower levels, which she equates to improving patient care. The care itself has also shifted to patient-centered care.
Although it's never too late to improve oneself, Overton wishes that she had stayed the course as a younger person, with the same focus she had at 14.
"I think now I would've been in a different position," she said. "However, I don't regret the twists and turns in life because of all the lessons I have learned. I can share that with upcoming, future nurses."
She also wants everyone in healthcare to treat others "equally and respectfully," she said. "Give quality care to everyone. There are so many biases and prejudices and racism in healthcare, and I would like to see that just eliminated."
Despite the challenges of the field, she wants more high school students to consider nursing as their career because of how rewarding it is and because of the opportunities nursing can provide in numerous arenas.
Overton would like to see greater representation of people of color among nurses, not only for equity's sake, but also so more patients can receive care from people who look like them. Better representation can also help reduce cultural misunderstandings between patients and providers.
According to the American Association of Colleges of Nursing, Blacks comprise 13% of the population, but only 10% of bachelor's trained nurses.
Someday, Overton hopes to work with underserved populations, focusing on diabetes care and mental health.
"So many Black and Hispanic people deal with mental health issues and have diabetes," she said. "Around 75% of people with depression have diabetes. That care should come together, not remain separate. I want to open an integrative practice. We don't really have one in the city of Buffalo."
In her spare time, she enjoys watching plays, visiting museums, and in her travels, viewing Frank Lloyd Wright architecture.