Cancer doctor from Roswell Park Cancer Institute now providing services to patients at Oneida Healthcare,  a hospital that's building a comprehensive cancer program
By Chris Motola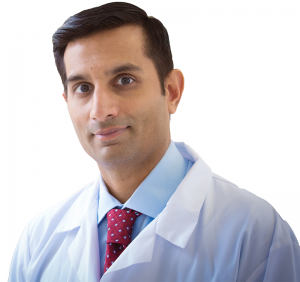 Q: Since I caught you while you're driving to Oneida, tell us about the partnership between Roswell Park Cancer Institute and Oneida Healthcare.
A: The partnership is a joint initiative between Roswell Park and Oneida Healthcare to start a cancer center. The idea is to provide better access to patients living in rural New York. The state granted Oneida funds to build a comprehensive program center in partnership with Roswell Park.
Q: How did you become involved personally?
A: I've been at Roswell for about a year and a half and one of the things that I've done in the time I've been there is outreach, where I meet physicians to talk about the care that I provide for patients with complex liver, bile duct and gallbladder problems. One of the things I've long recognized as a barrier for patients with these problems that prevents them from getting appropriate care is access. Once I learned of this partnership, I jumped at the opportunity to help set up a clinic in Oneida so that we could provide more convenient and direct patient care.
Q: Given that you're commuting from Buffalo, are you going to be involved long term, or just for the setup?
A: This is something that I envision doing long term. Right now I go every other week, but starting this month I'll be going every week. Our teams are working to open the chemo-infusion center and launch collaborative medical-oncology services onsite. So this is definitely a long-term thing for me.
Q: Do you see this as a model that will work for rural communities in general, leveraging the expertise and resources of bigger institutions from bigger cities in the state?
A: Absolutely. One of the things I'm committed to is the idea that, when possible, care should be delivered locally. It's more convenient for the patient, provides a better quality of life. I'm very committed to developing relationships with physicians all over the state — in Syracuse, in Watertown, Utica, Binghamton. By doing this, we can really try to integrate highly specialized care into these local communities. I do think this is replicable in other service lines. I don't think it's unique for our kind of surgery.
Q: What are the facilities going to be like in Oneida?
A: So, it will obviously be smaller than the one in Buffalo; however, all of the key cancer center facilities will be available. There will be full-time oncologists on site, full-time care coordination, full-time nurse practitioner. There will be chemo-infusion services and all of the pharmacy components. We're looking at ways to add additional cancer services onsite, too.
Q: Do you see the bigger Upstate cities being able to collaborate in a similar way?
A: Absolutely. I've been doing this clinic for a month and a half and I've seen patients from Syracuse and Albany. So, we see this clinic as not just providing highly specialized services to patients in Oneida and Rome, but to expand it for the entire region. It's just not always practical to come to Buffalo, especially in the wintertime. So it's kind of our outpost for the central, eastern and southern tier parts of the state.
Q: Who is most at risk for developing liver cancer?
A: I deal with two classes of diseases. The first is complex benign diseases and the second is cancer. It turns out that the liver is a very complex organ. Not only can cancer start in the liver, but it can spread to it. Cancers that start in the liver often develop in patients with cirrhosis, but not always. The most common types of cancer that spread to the liver are colon and rectal cancer, but there are other types that can spread there as well. The complex benign diseases includes things like liver cysts. Those problems can affect almost anyone.
Q: How effective do medical interventions tend to be on the diseases you treat?
A: Good question. When possible, surgery tends to be the best option for most of the cancers I treat. But in addition to surgery, there are other treatments we offer, like chemotherapy and radiation therapy. We can target chemotherapy directly to the liver, so there's not as much risk to the rest of the body.  That's really part of the unique challenge. It's my responsibility to get these patients to the appropriate treatments and get them in the right order.
Q: To what degree do you think rural hospitals can meet the new fee-for-outcome reimbursement standards?
A: I have done a great deal of work meeting physicians in rural hospitals and have been pleasantly surprised by their capabilities. But for complex cancers and patients who can benefit from multidisciplinary case review and coordination of care by a specialist, that's where I think we can really make a difference. That's really my role and that's why I'm so excited by this opportunity. Patients should only have to come to Buffalo for those complex services.
Q: Do you see yourself moving somewhere between Buffalo and Oneida for an easier commute?
A: Right now I plan on staying in Buffalo since I'm still seeing patients in Western New York, but more of my partners are going to be involved. We've integrated all of our electronic health records, so I can see anything that gets done in Oneida from Buffalo and vice versa.
---
Lifelines
Name: Srinevas Reddy, M.D.
Position: Surgical oncologist at Oneida Healthcare; co-director of Liver and Pancreas Tumor Center at Roswell Park Cancer Institute
Education & Training: Medical degree from University of Wisconsin Medical School, Madison; residency in general surgery, Duke University Medical Center; fellowship in the hepatobiliary field at the department of surgical oncology, University of Pittsburgh Medical Center
Hometown: Appleton, Wisconsin.
Affiliations: Oneida Healthcare; Roswell Park Cancer Institute
Organization: American Society of Clinical Oncology, American College of Surgeons, American Hepato- Pancreato-Biliary Association; Society of Surgical Oncology
Family: Married, two brothers
Hobbies: Sports fan, religious activities