It comforts and empowers parents and caregivers
By Amanda Jowsey
Early intervention is a nationwide program that aids parents, like myself, of children with developmental delays or disabilities.
This crucial resource helps infants and toddlers (from birth to age 3) reach physical, cognitive, communicative, social-emotional or adaptive milestones.
In times of worry and uncertainty, it comforts and empowers parents and caregivers.
Through E.I., service coordinators link parents with local therapists who come directly to the home and work one-on-one with children like my daughter.
Since the pandemic peaked last March, many of these children have not been able to see their therapists in person. They have, like other school-aged children, been restricted to virtual visits only.
Telehealth's greatest advantage is the ability to safely deliver necessary services. But, what are the disadvantages compared to in-person interactions? How do these COVID-19 restrictions affect the quality of therapy? How do they affect the bonds between children and their therapists? When children struggle with tasks that most of us take for granted, these therapists make them fun and rewarding. They not only become teachers to my daughter and I, but friends to us both.
Danielle Tallo, a registered and licensed occupational therapist, weighs in on the benefits and drawbacks she found while transitioning from in person visits to teletherapy. The most obvious advantage, she said, is that it allowed everyone — caregivers, children and therapists — to remain safe during the height of COVID-19.
Additionally, the opportunity for educating caregivers improved, as virtual therapy increased parent engagement.
"During in-person sessions, therapists like myself have noticed parents seem to draw back and allow the therapist to simply work with their child. They are not developing hands-on skills and their own competence for completing tasks," Tallo said.
With high caseloads and travel, there was previously not as much time for caregiver training, planning, and explanations of tasks and goals. Telehealth also allows for more flexibility in the case of scheduling conflicts.
There are, however, disadvantages. For those whom Tallo had not interacted with prior to these restrictions, building rapport with new clients has been challenging. "Children need that in-person engagement to build connections, trust and ultimately a companionship with therapists. If no relationship is formed, then I feel that, in the child's eyes, I am nothing more than a Youtube video or random person on a phone or laptop screen," Tallo said.
Thankfully, my daughter built a strong relationship with Tallo prior to the pandemic. As a parent, however, my biggest challenge is getting my toddler to focus on tasks with someone on a screen, no matter how well she knows that person.
Previously, these sessions were just play time with someone she loved. Now her engagement has dropped.
My job is to follow and demonstrate the therapist's instructions, and help my daughter understand and engage in the suggested activities. Although I play the most crucial role in her success, I cannot replace a therapist's formal training and education.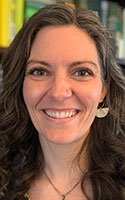 Kate Doherty, ongoing service coordinator, helps explain this concern. "For more hands-on services like physical therapy and occupational therapy, telehealth can be more of a challenge because [therapists] need to get their hands on the kids in order to guide certain mobilities… Sometimes the parents jump right in and do great with it. Sometimes they're a bit more hesitant, lack the confidence and don't want to hurt the child (in the case of infants that need certain manipulations)," she said.
"Most of the parents on my caseload have been pleasantly surprised with their child(ren)'s response to telehealth and their progress with it. Some children have not responded as well. I've had a few families where it just isn't ideal. The child has no interest in the screen or will not give any attention to it. In those cases, we work as hard as possible to get them some more options," Doherty added.
Until recently, virtual therapy completely replaced home visits due to COVID-19 restrictions.
The past few months, in-person visits are permitted with special restrictions. On Doherty's caseload, roughly 50% of children receive services strictly online, 20% at approved clinics, 20% at daycare and 10% at libraries or other approved public locations.
"In some cases, children that are getting services at a clinic or public location are also using telehealth once a month or so, as a hybrid method, in case the clinics or in person options need to be shut down again," Doherty explained.
Doherty said that while telehealth may not remain the main service delivery option, it has opened doors to more flexibility. It may, "post-pandemic life," be used as a backup in the case of provider shortages, and transportation or scheduling conflicts, Doherty said.
"I know that many are hoping and likely assuming that it's just a matter of time before in-home services can resume. That tends to be the most convenient and desirable option for many parents," Doherty added.
I know my daughter misses one-on-one time with her therapists. Her losing out on this interaction concerns me. I worry about the personal connections she's formed fading, and the role that may play in her success.
Tallo also misses this personal time with the kids she is used to befriending. Seeing their smiles in person and "getting and giving high fives and hugs" to celebrate accomplishments is one of the things she misses most.