Yes, there's something in the air —hatchets
By Catherine Miller
Just when you think you've tried all the activities that the bustling Buffalo area has to offer, hatchet throwing comes to Western New York.
Similar to darts — but on steroids — brandishing hatchets has been around for centuries, but is only now becoming a social sporting sensation.
Originally used as pre-historic tools and later medieval weapons, axes and hatchets have made their way to the modern-day social circuit and is a great group activity for all ages.
The social hatchet-throwing craze initiated in Canada and is now an international sport. And it's not just for the barrel-chested men donning red plaid.
"We've held bachelor and bachelorette parties, wedding day groom prep-parties, and everything from 21st to 60th birthday parties," explains Alec Siskar, outside events coordinator for Hatchets and Hops, located on Main Street in downtown Buffalo. "We get people of all different backgrounds," he says. "This tends to be a great team building environment as you do not need much strength or technique to have a great time."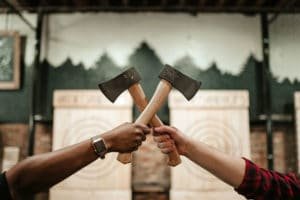 At Hatchets and Hops, a seasoned instructor is assigned to each group and you are given a lesson prior to throwing your first hatchet. You are informed on the proper approach in holding and raising your hatchet, when to release it and how to correct your stance and pitch. Your instructor will stay with your group for the duration of your practice period, and will rotate your hatchet wielding allies round robin style until the final tournament. The throwing areas are bays set up with two large wooden targets, similar to hanging out in a small bowling alley or batting cage.   
"This is a great experience for a date night or group of friends," said Sarah Signorelli, marketing manager at Hatchets and Hops, "People think they need a large group but as few as two people can book a time slot. We will group people together to make things more fun and often find that people make new friends by the end of the night."
So, why hang out throwing hatchets, you ask?
Well, aside from having a great time socially (and yes, Hatchets and Hops does serve beer, wine and food if you are in the mood), it is great exercise.
Instead of sitting around with friends you are up and moving which gets your blood flowing. Hatchet throwing is great for your core, lats, shoulders and legs. Think of the stress you release as you repeatedly lift and hurl a weighted hatchet up and over your shoulders toward a large wooden board 12 feet away. The hatchet is between one and two pounds, and after an hour or so, you can feel the stress release from your shoulder area, as well as your mind.
While Hatchets and Hops is for the 21 and over crowd, Western New York has an option for those teens looking for a fun new alternative to staring at video games. Buffalo Battleground, located on Niagara Falls Boulevard in Tonawanda has a starting age of 13 in their hatchet-throwing bays. If you have children beneath that age there is an arcade and laser tag area for the kiddies to enjoy while mom, dad and older teens heave a few hatchets.
Buffalo also boasts the AxeWagon, a mobile van that can transport hatchet-throwing activities right to your wedding reception or bat mitzvah to make for a memorable event.
Americans may have moved on from their days of lumberjacks working the frontier, but that's no reason to bury the hatchet. hatchet throwing is a social, stress relieving activity that can be a great date night, team-building event or fun family outing.
Check out the websites for Hatchets and Hops, the Axe Wagon or Buffalo Battle Ground for more information on what they have to offer.
Keep an eye out. I've heard there are more hatchet-throwing venues coming to the current Buffalo frontier in the near future.
Photo courtesy of Hatchets and Hops.