Radio host, fitness trainer Robbie Raugh of Williamsville proves that age is simply no barrier
By Michael J. Billoni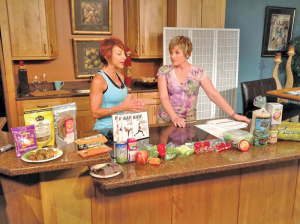 When most of us see the "Big 6-0" birthday on the horizon, a great deal of anxiety may come over us.
For Robbie Raugh, an international certified fitness trainer, registered nurse, radio host, health and fitness expert, wife and mother of two daughters, celebrating her 60th birthday recently was time for her to declare "60 is the new 40!"
"I just hit a milestone of 60 years young and I cannot believe it," says the resident of Williamsville and a devout Christian who hosts a Saturday morning radio show on WDCX 99.5 FM that also streams worldwide.
Raugh has also regularly appeared on WKBW's AM Buffalo with Linda Pellegrino for the past 20 years.
"I am, however, living the reality that age is just a number if you take care of yourself every day. Getting older earns us benefits and we should eagerly embrace and celebrate them," she explains during a conversation at her kitchen table as she sips water and munches on raw veggies. "While I look back nostalgically at my youth, I wouldn't want to be 20 again today. I feel a sense of satisfaction, accomplishment, wisdom, joy and peace in my life today. I didn't have that in those early days."
Raugh is a strong believer that "health is wealth" and as everyone gets older, we all must fight hard to stay healthy everyday by exercising, watching what we eat and getting plenty of rest.
"God gives us a responsibility to take care of this mobile home or temporary earth suite, as I like to call it," she explains. "This life is but a vapor — do we really want to spend it being sick and thick and tired? I don't and the choice is yours."
To help you with that choice, Raugh has authored her first book: "The Raw Truth Recharge — 7 Truths to Health and Fitness." Information about purchasing the book and workout DVDs she has produced are on her website at www.RobbieRaugh.com.
The book can also be purchased locally or on Amazon.com and Barnesandnoble.com.
Believing that our lifestyle and the choices we make each day matter in our overall health, Raugh wrote the book to show it is more than what we eat and how much we exercise that makes us well.
"Although eating and exercising certainly helps, I have always counted my blessings — family, friends and my health. Now at 60, that is more important than ever before," she said. "What really matters, and this is what my book is all about, is faith, family, food, fitness, detox, sleep and stress management. They are all vital to the health of our mind, body, soul and spirit.
"We know that with age comes wisdom and experience, and I am looking at things differently these days," she added. "I have always counted my blessings but even more so now. I feel I have a better sense of purpose in my life, and I am seeing God's plan roll out for me every day. I have been blessed to do what I love and feel that it matters for most of my life. How can anything be more fun?"
Significant impact
The testimonials about the success of Raugh's teachings and programs are numerous, including one from Hall of Fame Quarterback Jim Kelly's wife, Jill and their daughter, Erin.
"It would be near impossible in a few sentences to describe the impact Robbie Raugh has had on our lives and our health," Jill and Erin wrote. "Yes, she is certified, qualified, and amazingly talented. More than that, she sincerely cares about people and wants them to prosper in every way. The Kellys would not be where we are today without Robbie's love, guidance and prayers. Her book will transform your life."
Neil Boron of WDCX Radio lost 52 pounds, reduced his body fat by 30 percent and trimmed eight inches off his waist in just four months following her program.  "Robbie Raugh knows what she is talking about," he says with pride. "If you do what she says, it will change your life. I have way more energy and I feel fantastic."
Raugh, a native of North Tonawanda, began teaching fitness classes when Bally's Fitness Clubs came to town nearly 40 years ago. Her co-ed classes became so popular that ESPN filmed a segment calling it the largest indoor exercise class in America. She quickly climbed the ladder at Bally's to become the international group exercise director, overseeing 5,000 instructors in 400 clubs.
Today, she teaches classes at the BAC for Women locations locally where she offers free "Raw Truth Health" seminars and healthy eating classes as well as offering them for medical practices or through her own private practice.
She also is going to host her signature co-ed outdoor, high-energy Raw NRG kickboxing classes for Outer Harbor Buffalo on the waterfront, as well as other locations this summer.
Reflecting on being 60 and what she has experienced in her life, Raugh sits back, looks outside at her beautiful yard and says, "I will embrace the next decade with open arms. If today were my last day, I would not want to spend it thinking about the "what if's — shoulda and coulda."
"My family and close friends all want to live, love and be happy and healthy every day."