Local retirees say they find a more meaningful life as a result of their volunteering
By Nancy Cardillo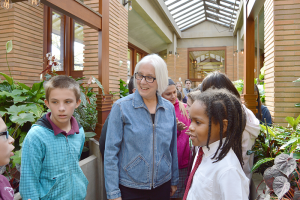 Jeri Mazur was a school librarian for 25-plus years before retiring 12 years ago.
A year later, she began volunteering at the Darwin Martin House in Buffalo where today, she's not only a docent, but also serves on the education committee and helps coordinate the annual summer kids' camp and the docent training program. And she loves it.
"I didn't grow up in Buffalo, so I didn't have that background that comes from being a native," says Mazur. "But we fell in love with Buffalo when we moved here. So, once I retired, I wanted to really immerse myself in the community and give back in some way."
After considering the many volunteer opportunities available, Mazur went through the docent training program at the Martin House and realized it was something she'd enjoy.
"It was invigorating because I had to learn about new things, such as art and architecture," says Mazur. "It presented a whole new aspect of life for me. It's fun, it's challenging, it allows me to grow intellectually and it keeps me physically active. There's also the social aspect, which I enjoy. It's never boring!"
Bill Hale has logged more than 12,000 hours as a hospitality ambassador at the Buffalo Niagara International Airport since retiring from his job with Catholic Health Systems 11 years ago.
At a time when most of us are still snug as bugs in our beds, Hale is arriving in the predawn hours at the airport to begin a typical seven-hour volunteer shift. He does it four days a week.
Hale responds to all kinds of situations — helping passengers who don't speak English, who need directions or escorts to their gates or have questions — most often about what they're able to take through security checkpoints. Hale also offers suggestions for things to do or places to eat in Buffalo.
"Retirement can be extremely boring and unhealthy," says Hale. "I could feel myself beginning to decline, so I knew I needed to get moving again. I wanted to do something that would keep me active, where I'd be able to talk to and interact with people, and volunteering at the airport satisfies all that and more."
Make most out of retirement
Many people fear retirement. They've led a busy, productive life working full time and taking care of a family. But what happens after the kids have grown and you've retired? How do you fill those hours? How do you remain active? Connected? Mentally stimulated? One answer that's proven to be a godsend for many is volunteering.
Seniors — defined as those aged 55 and older — are very much in demand as volunteers, according to Pat Dowling, the director of Erie County's Retired & Senior Volunteer Program (www.erie.gov/rsvp), which assists volunteers to find enriching opportunities that match their skills and interests at more than 90 nonprofit partner organizations. These include the Buffalo Zoo; Buffalo Niagara Riverkeeper; Buffalo public schools; Buffalo Niagara International Airport and Meals on Wheels for WNY, just to name a few.
Volunteer opportunities can include giving tours, tutoring or teaching classes, serving hot meals, transporting seniors, gardening and much more.
"Senior volunteers bring valuable skills and expertise to organizations," says Dowling. "They have a great work ethic and are very reliable. RSVP is one of the largest volunteer networks in the country for older adults, and in Erie County, we have more than 800 active senior volunteers who are invaluable to our partner organizations."
Benefits of volunteering
Older Americans who volunteer frequently live longer and report less disability, largely because volunteering provides social, emotional and physical health benefits, including:
• The satisfaction of giving back to your community and/or making a difference in the lives of others
• Mental stimulation, which helps to prevent dementia and Alzheimer's
• A sense of purpose, which combats isolation, loneliness and depression
• Healthy physical activity, which can help manage many chronic health conditions, such as high blood pressure, diabetes and arthritis
• An outlet for grief
• Intellectual stimulation
• An important way to stay connected with people, your community, etc.
How do you decide where and how to volunteer?  Start by asking yourself some questions: "What causes or issues matter to me?" "Do I want to use the skills I applied in my career or do something completely different?" "What would I most like to get out of volunteering? "What don't I want to do as a volunteer?"
Volunteer opportunities abound in Western New York, and can offer countless rewards and benefits. Whether you work through an agency such as RSVP, or apply directly to an organization, find the volunteer opportunity that offers a fun, challenging way to spend your time, with the added benefit of helping others.
Do your homework and choose carefully — the more you know about what you want to do, the more valuable you will be to the organization you join as a volunteer, and the more effective and happy you'll be!