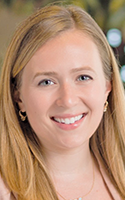 Laura Fisher, a certified genetic counselor, has joined Windsong Radiology Group's affiliate, Windsong Health Medical Alliance, PLLC.
A news release states that the addition strengthens the nationally accredited Windsong Breast Care Program, a first of its kind collaborative program in WNY, designed to assist newly diagnosed breast cancer patients through coordinated care and ultimately improved outcomes.
Fisher received a Master of Science degree in genetic counseling from Boston University and has most recently provided genetic counseling at Women and Children's Hospital of Buffalo.
"We are incredibly fortunate to have Laura join us," said physician Thomas Summers, president of Windsong Radiology Group, PC. "She is enthusiastic about her new role with Windsong and the breast care program. She is a dedicated and intelligent counselor committed to offering a compassionate, informative environment for patients seeking genetic counseling,"
The field of genetic counseling is on the rise and counselors like Fisher have become essential to healthcare. According to the National Society of Genetic Counselors, the field has grown 75 percent since 2006.
As healthcare moves in the direction of personalized medicine, counselors will be vital to the care of patients, according to Summers. Genetic counselors know all too well that cancer gene testing does not provide a simple "yes" or "no" answer to the question of whether individuals will get cancer.
Fisher will help patients understand how results of genetic testing may impact their health, mental and emotional well-being.
"With genetic testing for inherited cancer predisposition becoming more widely available and increasingly complex, it is my goal to provide patients with the counseling and education needed to help them make informed decisions," said Fisher.