Local Kaleida Health hospitals have new CEO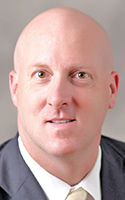 Kaleida Health has named Darcy Craven president of Millard Fillmore Suburban and DeGraff Memorial Hospitals.
Craven was recruited from the Carolinas Hospital System where he has served as chief executive officer since 2012.
Carolinas Hospital System is a 420-bed tertiary care facility located in Florence, S. C.. Comprised of two campuses, it is the third largest employer in Florence County with annual operating budget of $250 Million.
"We are thrilled to have Darcy join the Kaleida Health family," said Jody Lomeo, president and CEO of Kaleida Health. "As you can imagine, there were a number of great candidates who were interested in the position, but his 20 years of success in operations, putting the patient first and leading from the bedside really stood out to us. He will be a great fit for Millard Suburban and DeGraff Memorial Hospitals."
Craven assumes the post previously held by Chris Lane, who was appointed president of Buffalo General Medical Center/Gates Vascular Institute in May.
Craven said, "I couldn't be more excited to join Kaleida Health. The organization has a clear commitment to providing great care and it will be my goal to support the physicians and staff at Suburban and DeGraff in advancing that mission. After recently visiting as a family, my wife and I are delighted to be able to call Buffalo home and are eager to become active members of the community."
Craven joined the Carolinas Hospital System in 2010 as its chief operating officer, before being promoted to the CEO position in 2012.
Prior to this, Craven held executive leadership positions with two Carolinas Hospital System affiliates: interim CEO of Cherokee Medical Center in Centre, Ala., and the assistant CEO of DeKalb Regional Medical Center in Fort Payne, Ala.
Craven has a master's degree in business administration from Gardner-Webb University and a bachelor's degree from the University of Manitoba (Canada).
He began his new role with the hospitals and Kaleida Health in October.
Compeer gets $25K from Community Foundation
Compeer of Greater Buffalo, the only organization in Western New York dedicated to recovery through the healing power of friendship, recently announced that the organization, through a collaboration with Say Yes Buffalo, received a $25,000 grant from The Community Foundation for Greater Buffalo to conduct a unique mentoring program with low income high school seniors currently enrolled in a city of Buffalo public or charter school.
"Our team will utilize these grant funds to match 50 students with volunteer, working professional, mentors," said Timothy Boling, executive director, Compeer Inc. "Many of these identified students could be the first members of their families to attend college and now, because of the generous support of the Community Foundation, we will now be able to ensure they are equipped with the tools to apply to colleges, apply for financial aid, select a college to attend and prepare for the transition from high school to college."
A key component to the program will be recruiting working professionals to become volunteer mentors to the students. Compeer and Say Yes staff will recruit, properly vet, train and orient volunteers. Based on the backgrounds, life experiences, interests, and desires of both the scholars and volunteers, matches will then take place. Once matched, the students and volunteers will continue to receive support, resources, and guidance from Compeer and Say Yes staff. Both mentors and mentees will be required to make a minimum of an 18-month time commitment.
Plans by Independent Health among the best
Independent Health is again one of the highest-rated health insurance plans in the nation, according to the 2016-2017 Health Insurance Plan Ratings by The National Committee for Quality Assurance (NCQA), a private, leading organization dedicated to improving health care quality.
"We're very proud that Independent Health is again being recognized as one of the highest-rated health plans in the U.S. This recognition from NCQA is the latest in a long line of national honors we've received for quality and service," said physician Michael Cropp, president & CEO, Independent Health. "As a widely recognized symbol of quality in health care, NCQA's rating for 2016-2017 reaffirms Independent Health's commitment and ability to consistently provide the highest level of service for our members to get the care they need."
Independent Health's HMO/POS (commercial/private) products are rated 4.5 out of 5 in NCQA's 2016-2017 Health Insurance Plan Ratings. In addition, Independent Health rated 4 out of 5 for both its Medicare HMO and PPO products and 3.5 out of 5 for its Medicaid HMO product. These ratings are based on clinical quality, member satisfaction and NCQA accreditation standards.
Independent Health has consistently been rated among the top health plans in the country for customer service and member satisfaction, according to a company news release.
Earlier this year, Independent Health was recognized as the highest ranked health insurance plan for member satisfaction among commercial health plans in the New York/New Jersey region by J.D. Power's 2016 U.S. Member Health Plan Study. Additionally, Independent Health earned 4.5 out of 5 stars by Medicare in its 2015 rating of Medicare Advantage plans based on quality, value and performance.
For the 2016-2017 Health Insurance Plan Ratings, NCQA reviewed 1,500 health plans and rated more than 1,000 private, Medicare and Medicaid health insurance plans based on their combined Healthcare Effectiveness Data and Information Set (HEDIS), Consumer Assessment of Healthcare Providers and Systems (CAHPS), and NCQA Accreditation scores. NCQA uses a ratings methodology that classifies plans into scores from 0-5 in 0.5 increments – a system similar to CMS' Five-Start Quality Rating System.