Doctors of chiropractic have a variety of professional opportunities in the healthcare field
By Deborah Jeanne Sergeant
Students pursuing chiropractic degrees have every reason to look forward to a satisfying, solid career. D'Youville College in Buffalo represents one of two institutions in New York state offering chiropractic education.
Jeffrey Ware, doctor of chiropractic, heads the department and has worked in chiropractic as a practitioner and now in education for a total of 30 years. He has no regrets pursuing chiropractic and sees a bright outlook for chiropractic graduates.
"At this time, chiropractic grads could be a solo practice in their own office or associates in another office. There are job opportunities at the VA, military bases and at multi-disciplinary clinics," Ware said.
Chiropractors are part of a growing field. Many people wary of prescription pain medication and want an alternative approach to their pain relief. For those whom chiropractic is appropriate, issues often resolve more quickly than through rest alone.
"We are definitely holistic, natural and hands-on," Ware said. "A lot of people are looking for this. We're a drugless profession for the treatment of pain which is important because of the opioid crisis.
"Chiropractic profession is very satisfying as a profession," Ware added. "We have the No. 1 patient-doctor satisfaction rating."
Chiropractor J. Todd Knudsen, vice president of institutional advancement and special projects at New York Chiropractic College in Seneca Falls, represents other chiropractic educators in the state.
"Alumni of our doctor of chiropractic [DC] program have a wide variety of professional opportunities from which to choose," he said.
"A DC graduate can also pursue residency training and specialize in additional areas like nutrition, sports medicine, diagnostic imaging, orthopedics, neurology, pediatrics, teaching, or spine care."
Over the past 10 years, chiropractic has developed and advanced over in many ways, including public perception.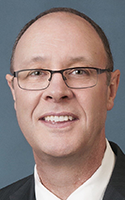 Knudsen, who is also a diplomate of the American Chiropractic Board of Radiology (DACBR) — a certified specialist in diagnostic imaging who can order and interpret advanced imaging such as a CT scans, MRIs and ultrasounds — said that a "strong body of scientific research" shows the value of chiropractic care as an effective alternative to taking medication and undergoing surgery for the issues it treats.
"Chiropractors have the very rewarding experience of making a difference in the lives of their patients by increasing the patients' quality of life and bringing relief to suffering, often when relief has been unavailable through traditional medicine," Knudsen said.
While medical doctors usually work on-call hours, chiropractors typically set their own hours if they operate their own practice.
For some, forming or joining an integrative practice with massage therapists and other types of practitioners enables them to minimize overhead to make up for low reimbursements. Others forgo working with insurance companies so they can charge more realistic rates and spend the time with patients that they need.
---
Median Salary for Chiropractors in WNY: $63,380
Tuition and fees at NYCC for the standard 10 semesters costs $122,820. At D'Youville, the cost is $150,000 for 11 semesters.
The Bureau of Labor Statistics' outlook for chiropractors is 12 percent job growth nationwide from 2016 to 2026, compared with 7 percent for all jobs.
The median pay nationwide was $67,520 in May 2016. New York's annual mean wage for chiropractors is $90,570. In Western New York it's $63,380; in the Rochester area, it's $67,880.
Jeffrey Ware, who heads the chiropractic department at D'Youville College in Buffalo, said that the statistics do not reflect solo practitioners, who can command higher rates than those working in a group practice.