Workers in this field receive an annual mean starting wage of $58,840 in the Buffalo area
By Deborah Jeanne Sergeant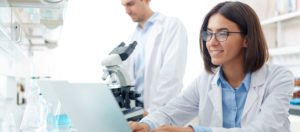 If you like science, health and technology, working as a lab tech might be right for you. The path to employment in this career is much shorter than you might think.
While many medical careers necessitate lengthy education, the clinical laboratory technician and clinical laboratory technologist require only two and four years' worth of schooling, respectively.
Workers in this field receive an annual mean starting wage of $58,840 in the Buffalo area, according to the Bureau of Labor Statistics, which combined both titles into its salary figure. Technologists make significantly more than technicians.
After successful completion of their education, candidates for lab tech positions must pass a certification exam, which licenses them to work nationwide and take 12 continuing education credit hours annually thereafter.
Few people seem to be aware of what lab techs do.
"Visibility is our biggest problem in the profession," said Richard W. Browne, Ph.D, associate professor in the department of biotechnical and clinical laboratory sciences with Jacobs School of Medicine & Biomedical Sciences at UB.
The name of these positions has also changed, which adds to the confusion. The Bureau of Labor uses "clinical laboratory technologists" and "clinical laboratory technicians" but the degree plan at UB is "B.S. medical technology." The school does not offer a two-year degree to become a laboratory technician; however, Erie Community College does.
Browne said students who complete the two-year degree can transfer to UB and take two additional years' training to complete the BS medical technology degree.
Browne added that these roles usually attract people who like helping others through the medical field, but not necessarily as nurses or doctors at that point in their lives.
"You have to have very strong science skills and good math abilities," he said. "This is a very rigorous program."
Lab techs who work outside of a medical setting, such as in research, a veterinary clinic, food research and development, may not be required to have a license, but these positions don't pay as well and aren't as readily available.
Browne said that the shortage of lab techs in the medical field has led to UB's 100% placement rate.
"Vacancies are as high as 17 to 20% in Western New York," Browne said. "UB students are recruited while still in school. It's a slam dunk."
The Bureau of Labor Statistics projects 11% job growth, considered "much faster than average" compared to all other careers.
Erika Paul manages of the core lab at Rochester General Hospital.  She considers lab techs part of the care team.
"We do everything from helping diagnose to managing patients to monitoring patients for their whole life," Paul said. "It's a very integral part of what draws people into it."
Lab techs can do far more than handle samples. Their analysis plays a major role in physician diagnoses. In fact, about 70% of decisions made in hospitals rely upon the lab.
Lab techs have room to advance as well.
"There are a number of different opportunities for a lab tech," said Courtney Ferrell, who works in HR/recruiting for ACM Laboratories, part of Rochester Regional Health.
She listed team leader, manager, supervisor or director as in-house positions to which lab techs may advance.
"A lot of medical technologists have ended up in our medical trials as project management, sales support as science subject experts, IT and other areas," Ferrell added.
Browne said that some students in the laboratory technologist program go on to become physicians.
"If you want to be a doctor and want to go to medical school, the degree is perfect because if you don't get into medical school, you can make a living," he said. "You won't have to go back to school."
For those who do make it into medical school, Browne said that the education in medical diagnostics only augments working as a physician.
"We send our top grads to medical school pretty much every single year," Browne said. "They generally become pathologists."