By Jane Schmitt
Walk through Roswell Park Comprehensive Cancer Center and you'll see walls adorned with extraordinary artwork meant to comfort patients, inspire visitors or simply offer a much-needed distraction.
It's an extensive collection built over the years as part of the hospital's mission of caring for the men, women and children who come there for treatment. On full display for all to enjoy are paintings, framed photographs, sculptures, glass mosaics and fabric art. Much of it was created and donated by local artists looking to make a difference for those who need it most.
"Our goal is to make the hospital experience better for our patients and their caregivers. They are our No. 1 focus," said William Vogel, art coordinator. "We want to beautify the space and give them something to look at. A positive diversion can help lift their spirit."
With nearly 1,800 pieces in the collection, there's a lot to see in the public areas of the main hospital and elsewhere on the Roswell campus. And for those who believe that art can play a role in the healing process, an enhanced environment is a win-win for all.
The list of artists represented in the collection is long and impressive, according to Vogel. Many have exhibited their work not only locally but nationally and internationally.
Visitors can view watercolors by Charles Burchfield and E. Jane Stoddard, giclee prints of area landmarks by Rita Argen Auerbach and oil paintings by Barbara Insalaco.
There are unique works from Jean Knox and Eileen Graetz, abstract acrylic paintings by Mary Schneider, collage paintings by John McIvor, landscapes by Eileen McNamara and UltraChrome prints by Dale Schwalenberg. Also on display are Karel Appel lithographs and a wall-sized plaster sculpture by Sarah Fonzi.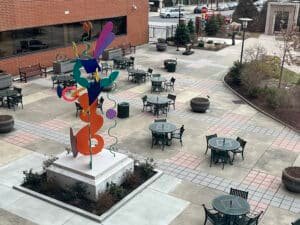 "We want to make your experience here more positive, whether you're looking at a single piece in a waiting room, walking around the atrium checking out multiple pieces or you're in the [hospital] art gallery," Vogel said. "But it's also there to help support artists and arts organizations. We have a humongous arts community in Western New York. Some of them are our patients, so there's that personal connection for us, as well."
A prime example is "Wish Field," a laser-cut sculpture in powder-coated stainless steel.
"Drawing on her experience as a cancer survivor, artist Shasti O'Leary-Soudant created 'Wish Field' for the lobby of the Scott Bieler Clinical Sciences Center," according to Roswell. "The sculpture is meant to soften the anxiety, fear and frustration cancer patients may experience during treatment and recovery. This piece, which represents a dandelion releasing its seeds to the wind, offers hope and encouragement to patients and their loved ones and is the inspiration for Roswell Park's logo."
Providing a respite
RoseAnn Berardi leads the art committee of the Roswell Park Alliance Foundation, whose members seek a range of styles and media to brighten the days for patients, as well as physicians and hospital staff.
"The response is overwhelmingly positive," Vogel said. "I might walk down a hallway and see somebody who clearly is not having a good day for whatever reason and they're immersed in a piece of art or a display or an installation. It is heartwarming to know that they are finding a way to refresh themselves or clear their mind and have a respite from what's going on around them."
Adding to the creative energy at Roswell is The Art Heals Gallery, located on the first floor. It's an important component of the hospital's mission to serve people who need cancer care.
Simply put, said Vogel, "you put art in a hospital and it looks good and makes people feel better."
Top image: Install shot from Buffet Style – Food Art from the Roswell Park Art Collection, on view through March 2023. This exhibition features food-themed works from the Roswell Park collection.