By Deborah Jeanne Sergeant
The lifetime prevalence of major depression is 20 to 26 percent for women and 8 to 12 for men. But those numbers may be skewed by a few factors, according to the Journal of the American Medical Association.
"Men may be less likely to be introspective and consider their feelings," said physician Horacio A. Capote, director of the neuropsychiatry division at Dent Neurologic Institute and part of the network of G-Health Enterprises in Erie County. "In addition, men are more likely to present with anger or irritability as their emotional expression of depression rather than sadness.
Culture also plays a role, as men are conditioned to remain quiet about feelings and not express feelings in healthy ways.
"Men are encouraged by society to be stoic. Men seem to experience more shame with regards to their depression. They see depression as a threat to their role as breadwinner. They are less likely to identify hormonal changes decreasing testosterone levels as a trigger for depression. They often see depression as an admission of weakness."
Instead, turning to "self medication" such as alcohol and drugs, or relieving stress through angry outbursts or irresponsible behavior represents unhealthy ways men cope.
"It's essential to have a support network, but a lot of times, men don't have it," said Kathy Calabrese, licensed marriage and family systems therapist, neurofeedback clinician, and founder and CEO of The Brain-Body Health Technology Institute, LLC in Buffalo.
She said that even while socializing, men seldom discuss what's really going on with them. While that provides some benefit, "for someone who's really struggling, it's not enough," Calabrese said.
When men do contact mental health providers, it's usually because of a crisis, such as a DUI conviction, infidelity or divorce. But Calabrese is beginning to see a shift.
"Men are becoming more open and vulnerable when they become dads, for example," Calabrese said. "I see things changing but it's slow."
Some male clients want to better understand themselves and why they're no longer happy. They usually don't want medication to take care of their issues. Calabrese said that anti-depressants and anti-anxiety medication don't offer long-lasting relief and cause "horrendous" side effects.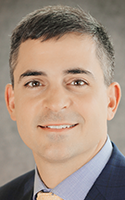 Michael P. Santa Maria, Ph.D. and board-certified neuropsychologist at DeGraff Hospital in North Tonawanda, said that many men find relief through a "combination of good social support from friends and family, religious organization and neighbors, and more formal treatment like counseling and/or anti-depressant medication. In year's past, it might be medication alone."
Many men feel reluctant to take time off from work for therapy, both because they need the money and because they fear the stigma of needing mental health help.
"If the individual doesn't have insurance and is working two part-time jobs and we add in one more thing to do, that may adversely affect income or time with family, Santa Maria said. "That can be associated with increased stress."
Or, if they live in a rural area, finding help may be more difficult because of their location. Websites such as that of Psychology Today (www.psychologytoday.com) or Good Therapy (www.goodthearpy.org) can help people find a therapist close to home or work.
Any person contemplating harming himself or others should seek immediate professional help by calling 911 or going to the closest hospital emergency room.
---
Depression at a Glance
• Major depressive disorder affects approximately 14.8 million American adults, or about 6.7 percent of the U.S. population age 18 and older, in a given year. (Archives of General Psychiatry, June 2005 .
• While major depressive disorder can develop at any age, the median age at onset is 32. (U.S. Census Bureau Population Estimates by Demographic Characteristics, 2005)
• People with depression are four times as likely to develop a heart attack than those without a history of the illness. After a heart attack, they are at a significantly increased risk of death or second heart attack. (National Institute of Mental Health, 1998)
From the website of Depression and Bipolar Support Alliance (www.dbsalliance.org):