Solo Senior Travelers makes journeys a group effort
By Nancy Cardillo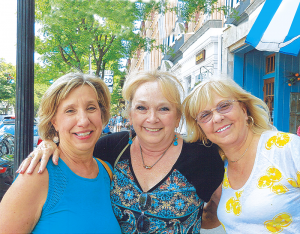 Patricia Caputo has always loved to travel. But when her husband died in 2004, she thought her traveling days were over, or at least would be severely curtailed.
"I have friends with whom I could travel, but we didn't always have common interests," Caputo said. "Some don't like cruises and some didn't want to go to certain places, and so it became more difficult to find travel partners."
Not wanting to give up her love for traveling, Caputo decided to try it solo. Her first group trip as a solo traveler was one of cookbook author and restaurateur Lidia Bastianich's cooking excursions to Italy.
"My kids thought I was nuts going that far away without a travel partner, but I had a great time and met so many wonderful people. I was hooked on solo travel after that," Caputo said.
Then she discovered AAA of Western and Central New York's Solo Travelers Club, and she hasn't looked back since. The 81-year-old retired nurse has taken cruises, motor coach trips and day trips and looks forward to every adventure.
"I can't wait for the New Year's Eve trip to Saratoga with the club," Caputo said. "I missed it last year because of illness and it looked like so much fun."
The Solo Travelers Club began as an experiment with the AAA of Western and Central New York, which covers the Buffalo, Rochester and Syracuse areas. Solo Travelers Club program manager Sue Smith would connect single ladies traveling alone on her group tours to make the trips more enjoyable for all of them.
The ladies were so appreciative they suggested AAA set up a group geared specifically toward matching single travelers.
"We started with a group meeting in Syracuse in 2010. It attracted nearly 50 people, so we held meetings in Rochester and Syracuse the following week. From there, membership grew rapidly, and today we have more than 5,000 members," Smith said. "Solo Travelers Club members can book any of our trips — which we call 'solo friendly' — and we'll make sure they sit together on the coach and at meals. We also have at least six solo exclusive trips that adds to the camaraderie."
The solo club offers a roommate connection board. However, many members who love spending their traveling and meal times with others prefer their own rooms.
Appeals to older set
Smith said approximately 90 percent of the Solo Travelers Club members are aged 55 or older, but notes that "any single traveler is welcome to join" and there are travelers in their 40s. There are men and women, widows and widowers, never- marrieds and even married people whose spouses don't like to travel, or can't.
"It's a very diverse, very wonderful group," smith said. "We always have such a good time on the trips. Everyone watches out for each other, and many long-term friendships have blossomed thanks to the Solo Travelers Club." She adds that several romances have also come about thanks to the club.
The Solo Travelers Club rewards program offers many benefits to its members, including travel discounts and rewards and exclusive invitations to events and trips. Members are invited to four meetings a year plus several social events where they can get to know each other, offer their input and maintain friendships.
Trips include cruises; close-to-home cruises where travelers are brought to the cruise ship by motor coach rather than airplane; river cruises, day trips and even mystery trips, which typically sell out within days of being advertised.
"We've gone all over, near and far, on our trips," Smith said. "There's always a trained tour director on the trip, and we make sure our travelers know the level of activity scheduled for the trip, so they know whether they are physically able to manage. Safety, comfort and enjoyment are our priorities, as well as affordability."
As for Smith, she says she loves everything about the Solo Travelers Club. AAA makes it easy and affordable to sign up for trips, and takes good care of travelers, ensuring they are safe and having an enjoyable time.
"If we're traveling by motor coach, Sue always makes sure there are snacks and water available, and does a great job educating us about the place we're going to visit. It's really nice," Caputo said.
Plus, Caputo says she's made great friends in Buffalo, Rochester and Syracuse, and travels with them on a regular basis.
"The Solo Travelers Club is an excellent way to travel," Caputo said. "It's an absolutely phenomenal group, and I'd recommend it to anyone who loves to travel but has no one to travel with. After one trip with Solo Travelers, you'll have plenty of new friends."
It's easy to understand, then, why the tagline for the Solo Travelers Club is "travel with friends."
For more information on AAA of Western and Central New York's Solo Travelers Club, visit www.aaa.com/solo.