Four-person game can be played indoors or outside on either grass, sand or snow
By Daniel Meyer
Several years after Kan Jam swept the nation as the latest backyard lawn game testing participant's athleticism and strategy, a new sport has recently emerged that has become a favorite of many across the country, including here in Western New York.
Roundnet — also known as spikeball — is a net sport inspired primarily by concepts from volleyball.
The game is played by four people using a two-on-two format. Based on the ability to play the game outdoors as well as inside, the sport continues to grow in popularity in this region because of the long-term vision and strategic leadership of the organization known as Western New York Roundnet.
"We have a lot of fun in helping promote and of course play the game," said Jake Heidman, who coordinates the organized activities of Western New York Roundnet. "We have a goal of growing the sport by bringing together existing players with anyone new and unfamiliar with this great game. We offer competitive leagues and challenging tournaments and we also have fun pickup games."
Western New York Roundnet was founded in 2018 by Karl Chodora and Chris Wahl. Their beginning days of just a handful of players gathering for Sunday pickup games has grown over the past few years into an organization that has multiple teams that compete in regional tournaments against players from all over New York as well as players from Pennsylvania, Ohio and Canada.
"The interest is growing," said Chodora. "It's a fun sport and most people who play really develop a passion for it. The tournaments are so enjoyable. The skills involved and the fast-paced excitement of the game are incredible."
Unlike traditional team sports such as baseball, football, basketball and hockey, the game of roundnet offers athletes of various skill sets the ability to compete without having had to play the sport for several years.
"It's very versatile in that you can have experienced players easily play and break in some people who are brand new to the sport," said Wahl. "It allows for community and teamwork and collaboration and inclusiveness and that's why it is a tremendous game."
How to play
The two versus two competition begins when one player begins a point by serving the ball down onto the spikeball net so that it riccochets up at the two opposing players. The returning team then has up to three hits between them to return the ball back onto the net. The rally continues until one of the teams is unable to return the ball onto the net within their three touches. Games are usually played to 21 points, but tournament organizers can change that at their discretion.
As is common with similar games such as ping-pong, tennis and volleyball, teams can claim a victory by two points. Points can be scored the following ways:
– When the ball doesn't hit the net within three hits during a possession
– The ball hits the ground
– The ball hits the rim of the net
– The ball does not bounce off the net on a single bounce, also known as a double hit
– There are two consecutive illegal serves
– The player hits themselves or their teammate with the ball after it makes contact with the net
Community mindset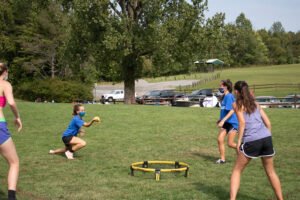 For a younger player like Heidman, his interest in the game is motivated by two factors.
"I instantly fell in love with the game," said Heidman, who is 20 years old. "I helped start the club team at the University at Buffalo and just really enjoy introducing the game to different people. It's incredible to watch it grow."
Heidman's description of the simplicity of the game but also the complexity of playing it at a high skill level may be the ultimate summary of why the sport of roundnet is so attractive to many athletes.
"It's so very easy to pick up and is a sport that is very, very, very easy to learn but at the same time is very, very, very hard to master," said Heidman. "You can pick up the basics in a relatively short period of time but being able to dominate isn't nearly as simple."
"There's something special about how roundnet brings people together," said Wahl. "There is a community feel to it that is hard to describe but really unique and cherished by those who play a game they grow to love. It's pretty awesome."
The future is bright
"I'd love to see people in Western New York play the sport more indoors on quality turf surfaces, especially during the winter months," said the 38-year-old Wahl. "The sport is too much fun to be limited to only be played outdoors in warmer weather. We've got to be able to find a way to obtain time at affordable rates to play it inside when the weather outside is less than ideal."
The goal is to recruit more high school aged players and continue to introduce the sport to students who attend local schools in the hopes of having the game eventually be added to the curriculum of physical education classes.
"I also want to see more female players because this is a sport than can easily be played by men and women," said Heidman. "There is no limit to playing because of age, gender or athletic ability. There is skill involved, but you don't necessarily have to be the greatest athlete in the world to play roundnet."
"It's more than just a backyard lawn game you play when you have a picnic or invite some people over to your house," said the 38-year-old Chodora. "It's a sport that continues to grow, not only here in Western New York but throughout the country and across the globe. It's eventually going to be mainstream and become a common game played all over."
To learn more about Western New York Roundnet, you can search "WesternNYroundnet" on Facebook or "wny_roundnet" on Instagram or visit their website at www.wnyroundnet.com.