BioPrax, a product to treat prosthetic infections being developed by UB and Garwood Medical Devices, may have wide range of applications
By Jana Eisenberg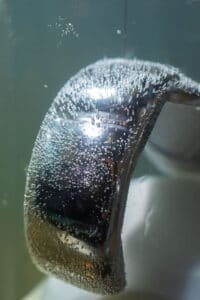 Got a knee replacement or know someone who has? Ever think about what would happen if that newfangled metal joint inside your body got infected?
While occurrences of infection in people who get knee implants is fairly low (less than 3% of around a million Americans who annually get the procedure), the experience can be devastating, and costs billions to our healthcare system.
The current gold standard of treatment for an infection after joint replacement surgery is more surgery, says Wayne Bacon, CEO of Garwood Medical Devices. And the results are not always successful.
Bacon's company is working on a product based on a technology that was developed by University at Buffalo researcher Mark Ehrensberger, Ph.D., and researchers at Syracuse University, to market a less invasive, more effective treatment for prosthetic infections; these infections manifest as a biofilm on the metal implant surface.
The technology behind the product could have much broader applications for saving money, saving lives and giving patients with infections on any kind of metallic implants — hips, shoulders, screws, plates or dental — a better quality of life.
Ehrensberger is the co-inventor of the antimicrobial technology known as cathodic voltage-controlled electrical stimulation (CVCES) that led to the development of a device, called BioPrax.
Garwood Medical has the exclusive license to the technology, and was recently granted access to the Breakthrough Device program from the FDA for further clinical testing. The FDA Breakthrough Device Designation is for products that may provide more effective treatment or diagnosis of life-threatening or irreversibly debilitating diseases or conditions.
Using CVCES, BioPrax works by a thin needle inserted into the body, where it comes in contact with the infected metal implant — a knee joint in the case of its planned initial use. In combination with two electrodes on the skin, BioPrax then delivers a very low voltage electrical stimulation via the needle to the metal implants.
The result, a series of mild electrochemical reactions, ultimately creates a disruption of the biofilm, and kills the bacterial infection — so far, crucially, in pre-clinical studies, without harm to any other parts of the body, like bone or tissue.
"Currently, these implant infections are treated like cancers — they are hard to cure in place and the implant has to be removed," said Bacon. "We are looking forward to further testing so that we can use this new technology to improve current treatment outcomes, with the goal of having the patient keep their implant. The technology is also being developed to both treat implant infections and to prevent implant infections on all kinds of metallic implants.''
"When I first came to UB, I wanted to establish a new and impactful area of research," said Ehrensberger, an associate professor in UB's department of biomedical engineering, and the director of the Kenneth A. Krackow MD Orthopaedic Research Lab in the university's Jacobs School of Medical and Biomedical Sciences Department of Orthopaedics.
"I have a background in electrochemistry and corrosion — so I have a good understanding of the properties of the metallic biomaterials used for orthopaedic implants. I learned that infections were a big problem," he said. "That led me to ask, 'Can I utilize my knowledge to develop new electrochemically-based antimicrobial therapy for implant infections?'"
He reached out to the Jacobs School's Anthony Campagnari, SUNY Distinguished Professor of Microbiology and Immunology, and senior associate dean for research and graduate education, and together with their teams, discovered that the answer, happily, seems to be "yes."
Ehrensberger and his colleagues have worked on the invention for 10 years to bring it to this point, noting that in the bigger picture, the university's availability of co-researchers with complementary knowledge and experience is crucial to such work.
Most recently, Ehrensberger, Campagnari, and Garwood Medical Devices, supported by a $749,000 grant from the Congressionally Directed Medical Research Program, have partnered with Thomas Duquin, Jacobs School Department of Orthopaedics clinical associate professor, and investigators at the Uniformed Services University/Walter Reed National Military Medical Center.
They are exploring the use of the technology behind BioPrax for lessening infection concerns related to osseointegrated prosthetic limbs for people with amputations — like many military active duty members and veterans.
"For some people with amputations, traditional socket prostheses don't work well; prostheses that are integrated into the bone, and extend through the skin can be advantageous alternatives," Ehrensberger said. "If we can mitigate those potential infection concerns with use of this new technology, these osseointegrated prostheses could be widely utilized to restore patients' quality of life and mobility. That would be incredibly fulfilling."
It's not unusual for a university and a privately-owned company to partner to bring inventions coming out of the school's research to market to benefit the public. After all, "the public" is why the researchers are conducting their work in the first place.
The UB/Garwood partnership continues to be symbiotic, providing the commercial venture with collaborative grant opportunities, a pipeline of talented new employees, and access to cutting-edge technologies, facilities and other valuable resources.
"UB and Garwood Medical will continue working together to cure devastating knee implant infections," said Bacon. "We are committed to making the most of this partnership to find even more new ways to improve people's lives."
Photo: Mark Ehrensberger, Ph.D., is the co-inventor of the antimicrobial technology known as cathodic voltage-controlled electrical stimulation that led to the development of a device called BioPrax. Next to him is Anthony Campagnari, Ph.D., SUNY Distinguished Professor of Microbiology and Immunology, and senior associate dean for research and graduate education. Photo by Douglas Levere, courtesy of UB.