Three distinguished ECMC professionals among those honored during largest gala in WNY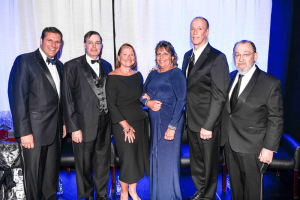 Erie County Medical Center (ECMC) Corporation and the ECMC Foundation ECMC presented the 30th Springfest Gala 2019, the largest nonprofit gala in Western New York, which drew more than 2,000 guests — the largest gathering in the event's history. The event, raised the highest gross in its history – exceeding $1.2 million. It took place May 11 at the Buffalo Niagara Convention Center, Convention Center Plaza.
All proceeds from the evening will benefit the medical services of ECMC, Western New York's only regional Level 1 adult trauma center, which is now being updated with a modern, state-of-the-art facility that will double the capacity of the existing facility.
Presented by Pegula Sports and Entertainment, this year's Springfest Gala honored the distinguished service of: Jim Kelly, Buffalo Bills Hall of Fame Quarterback, founder of Kelly for Kids Foundation, and co-founder of Hunter's Hope Foundation; physician Thom R. Loree, chairman of the department of head and neck surgery and plastic and reconstructive surgery for ECMC, and associate professor of surgery and otolaryngology at Jacobs School of Medicine and Biomedical Sciences, UB; dentist Maureen Sullivan, chief of the department of dentistry, division of oral oncology and maxillofacial prosthetics at ECMC, clinical assistant professor at the department of oral diagnostic sciences, School of Dental Medicine, UB, and clinical assistant professor, otolaryngology at Jacobs School of Medicine and Biomedical Sciences, UB; and nurse Donna Oddo, nursing care coordinator at the emergency department at ECMC.