Lack of physical activity in our children is another unwelcomed side effect of the pandemic. It is time to get the kids moving again
By Catherine Miller
A body in motion stays in motion, while a body at rest stays at rest. Newton's verbiage is as true today as it was when he was munching on apples.
So what happens when you take our children who were once so active walking to school, taking gym classes and going to sporting events, and halt those activities?
Many students now only walk as far as the family room for their schooling and then sit for many consecutive hours. Sports have been minimized and physical education classes are nearly non-existent. The lack of physical activity in our children is another unwelcomed side effect of our current climate.
It is time to get the kids moving again.
Western New York is home to many indoor facilities that offer great exercise activities.
The Central Rock Gym in Buffalo is one option that offers unique rock-climbing experiences for children as young as 4 years old. Early aged classes enjoy working on the boulder climbing area that does not require a harness. A portion of their class revolves around physical activities and non-contact fitness fun. As the kids get older they are taught to climb walls with harnesses and ropes while one of the Central Rock's trained employees offer assistance.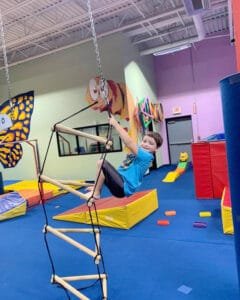 "Rock climbing is good for upper body strengthening as well as legs and core. You will utilize your arms, hands, fingers. You will develop fine motor skills and work larger muscle groups," said Justin Koestler, general manager at Central Rock Gym, "In addition, it is good for problem solving, concentration and confidence."
Students are taught safety measures and knot tying so that they are aware of correct safety requirements of climbing. Classes run an hour to two hours giving the kids a great amount of time for physical fitness and socialization. Masks are required at their facility. Not a contact sport, rock climbing can be a great place to hang with friends while continuing to keep health and safety measures in place.
Another great exercise facility geared toward the younger set is Rolly Pollies Children's Gym. A locally-owned business with several locations, Rolly Pollies is a great place for the family to exercise together and they have classes from infancy through grade school.
"Our most popular class right now is our "Family Class," said Jim Fleckenstein, who owns Rolly Pollies with his wife Danielle, "Family Class allows families with children of multiple ages to participate together in engaging warm-ups, stretching, obstacle courses, exercise stations, and a healthy dose of free play."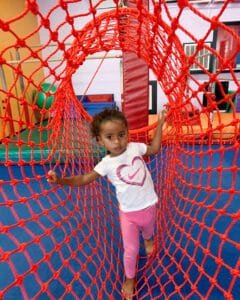 Rolly Pollies has been recommended by pediatricians and therapists for children that would benefit from motor-skill based classes. It offers a free trial class to determine the perfect class for each child. Rolly Pollies offers a "Caterpillar Class" for babies as young as 4 months until the not-quite-walking stage and aids your child in the physical and emotional challenges of independent walking.
"The Caterpillars Class focuses on vestibular stimulation, core strength, hand-eye and foot-eye coordination, bonding and social skills," said Fleckenstein "We use songs, group activities, exploration time and individual exercise stations to work on everything from rolling over and sitting up, to crawling and taking those first steps. In addition, this is the class where lifelong friendships are made."
Rolly Pollies presently limits the size of their classes, and their large facilities makes it easy to remain physically distant. There are flexible class make-up policies in place, and health screening is conducted on staff daily. All adults at the facility are required to wear masks, although children participating in gymnastic-based classes are not required to wear a mask.
A quick internet search will show you many other options that our area has to offer for activities, including the Get Air Sports Trampoline Park, the WNY Karate Center and many child-based classes at the YMCA.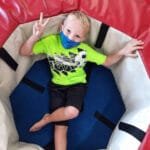 The Buffalo Museum of Science has activities to get the children's mind and body in motion. Municipal parks remain open for walking trails and are a great place to take your kids for a hike and wildlife watching.
If you are not able to get your children out of the house there are many at-home activities that can get the kids moving. Consider setting a timer once an hour and have your kids pull an "activity card" out of a homemade deck, listing "jumping jacks," "toe touches" and similar activities to be repeated for a set time. You can reward a long study session with a dance party and play their favorite song or put together a short scavenger hunt list with items from around the house for them to gather. Anything to get their bodies moving on a periodic basis will be beneficial to your child.
Physical activity diminishes stresses, combats weight gain and enhances the immune system, according to various studies. Despite the many changes to our everyday routines, with a bit of imagination, creativity and planning your children can stay active and healthy during this new-normal situation.
Photo: Central Rock Gym in Buffalo