Following an international search, Roswell Park Comprehensive Cancer Center has promoted and appointed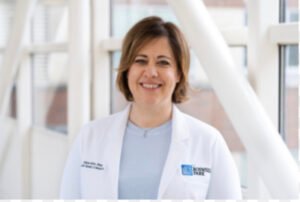 Joyce Ohm, PhD, as chairwoman of cancer genetics and genomics as well as the John & Santa Palisano Endowed Chair of Cancer Genetics. She previously served as interim chairwoman of the department.
Ohm joined the Roswell Park team in 2016 as an associate professor of oncology, providing expertise in the genetic and environmental determinants of cancer. With over 25 years of experience in cancer research, she has made seminal contributions to science in the areas of tumor associated immune suppression, identification of genetic mutations driving response to therapy, and understanding how cells modify their genome and epigenome to contribute to tumor initiation, progression, and therapeutic escape. She's led the department in research published in several high-impact journals such as the American Association for Cancer Research's (AACR) Molecular Cancer Research and Nature's Scientific Reports.
An internationally known epigenetics researcher, she has made it her life's goal to find a cure for cancer. Her mission is personal — her mother died from a rare form of the disease she was just 10 years old.
She routinely participates in the Ride for Roswell and Empire State Ride, which help to propel the future of cancer research in her lab and across the cancer center.
"As we look to position Roswell Park as a global leader in combining epigenetic therapy and immunotherapies, I can think of no better person to help guide our team than Dr. Ohm," says physician Renier Brentjens, deputy director and chairman of the department of medicine at Roswell Park. "Her rigor and determination are palpable in a field that has tremendous potential and impact for cancer patients and loved ones. We are excited to see where she takes it next."
Ohm holds her doctorate in cancer biology from Vanderbilt University School of Medicine and completed her fellowship at the John Hopkins School of Medicine.