Construction of a new ER at ECMC expected to start this summer, complete by 2019
By Tim Fenster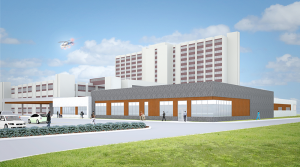 When Western New Yorkers suffer the most horrifying, traumatic injuries, they are usually rushed to the same place — the emergency department at the Erie County Medical Center.
As the hospital with the only Level 1 trauma center for adults, ECMC's emergency department takes in Western New York patients with the most terrible injuries — victims of car wrecks, shootings, stabbings, high falls and serious burns.
"Almost all the major trauma injuries tend to come to ECMC because we are the only adult trauma center in Western New York," said physician Michael Manka, chief of emergency medicine at ECMC. "What that means from a patient care perspective is we have resources available to take care of our patients here at ECMC for trauma that other hospitals don't have."
Those resources include a trauma surgeon on-call 24 hours a day in the hospital, a trauma team of surgical residents and all other specialties in trauma care — neurosurgeons, orthopedic surgeons, radiologists — just a phone call and short drive away.
Not only does ECMC boast the only Level 1 trauma center, but it is also simply the busiest ER in all of WNY.
Last year, the ED saw 69,290 patients, and Manka says they are on track to see even more patients for several years to come. Since 2010, ECMC's ER visits have increased 20 percent.
Contributing factors
He attributes the rise to closures of other area ERs, an aging local population, more people having insurance after passage of the Affordable Care Act and a shortage of primary care doctors. It might also be from a cultural change, in which patients seek to have any care they need done in the shortest possible time.
"Those are a handful of things. Trying to weigh what factor has had the most impact on rising emergency department visits is very difficult," Manka said. "Everybody has their theory."
To handle the increase, the hospital has boosted its staffing levels and added a "fast track" for patients with minor ailments that can be treated quickly. But those steps have only done so much to improve care and reduce wait times. The largest problem, Manka said, is the space itself is sorely outdated.
The ER is still housed in its original space built in the late 1970s, and the ER has not seen a major renovation since 1996.
The result is an ER that is at full capacity on a daily basis. When it overfills, patients are lined up on ambulance stretchers in hallways, where they have no privacy and where physicians cannot perform many examinations.
"It's really discouraging as a health care provider to have to take care of patients with serious complaints and problems in the middle of the hallway," Manka said.
That's why ECMC is moving ahead on plans for an entirely new ER at the west side of the hospital, near an outdated ambulance ramp.
Plans call for a 54,000-sq.-ft. facility with 54 treatment stations, including four trauma rooms and two medical resuscitation rooms, compared to the current 34 rooms in 26,000 square feet.
Speedy, streamlined care will be a focus of the new space. It will include a care initiation zone with six stations where nurses can triage incoming patients, as well as in-department X-ray and CT scan equipment.
"The point of entry and streamlining the flow of patients into the department is going to be a big improvement over the state we currently have," Manka said.
The facility carries an estimated price tag of $58 million. ECMC is in discussions with the county over a borrowing plan to fund the project. Hospital administrators hope to start construction this summer and finish the facility in 2019.
---
ER Visits
Hospitals in Buffalo area with most annual emergency department visits.
Hospital  –  Number of patients a year
ECMC –  70,054*
Buffalo General Medical Center –  55,860
Mercy Hospital –  53,369
Women & Children's Hospital –  47,957
Sisters of Charity Hospital –  42,087
* Number of visits include patients at ECMC Behavioral Health ER. Excluding those figures, ECMC ER had 58,054 visits