Catholic Charities' leader talks about meeting fundraising goals and transitioning from banking to being a nonprofit CEO
By Michael J. Billoni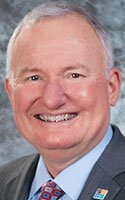 Deacon Steve Schumer joined Catholic Charities of Buffalo in late 2019 as president and CEO after a distinguished 34-year career with M&T Bank. Ordained a deacon in the Diocese of Buffalo in 2014, he was assigned as a Catholic Charities ambassador visiting churches throughout Western New York promoting services of the 98-years-old nonprofit that is a separate legal organization from the diocese. He was recruited to the position by the search committee when Dennis Walczak announced his retirement after 15 years.
Catholic Charities of Buffalo has a $40 million budget, 400 employees and provides 57 programs offering a variety of services in 80 locations across the eight counties of Western New York.
Q: How did you go from banking to running a large social services agency?
A: From the work I had been doing as a deacon visiting the churches, I felt an attachment to Catholic Charities, but it was quite a surprise when the bishop asked me to take this role around Christmas of 2019. I thought I was just going to retire from the bank. But, as I prayed on it, I just felt a calling to take this position and I have never looked back.
Q: What was it like when you began at Catholic Charities?
A: That was 2019 and for the first time in the long history of Catholic Charities the campaign did not reach its goal. That was mostly due to the priest scandal within the church and donors were mad at the church. We tried to make the point we are a separate organization, but a lot of people did not immediately make that distinction. We told them by not donating they are hurting those in most need of the services we offer.  Within one week of taking the job I am standing with the interim bishop announcing our 2020 campaign and we kept the goal the same at $10 million. We were very confident but three months later the COVID-19 pandemic occurred and the world as we know it came to a screeching halt.  We raised $8.5 million of our same $10 million goal and, under those conditions, that was impressive. Our 2021 campaign ends June 30. All signs are positive that we will meet our goal of $10 million. What is impressive is we have 30,000 people who support us through the appeal and 90% of money raised comes from parishioners in the parish and handful of big donors.
Q:  How did the pandemic affect services offered by Catholic Charities?
A: More and more people needed help from Catholic Charities. We actually changed our marketing campaign from please donate to 'Are you anxious? Are you depressed? Are you having problems with substance abuse? Call Us. We Can Help!' and 'Are you worried about paying your mortgage or rent? Call Us. We Can Help.' The number of people in Western New York who were experiencing those issues was substantial. But, those are services we provide; so were able to help many people. We are now trying to inform all residents of the wide-ranging services available to them. People do not realize we have nine food pantries across Western New York and with kids home from school and parents not working, the pantries were quite busy; but we kept up with the demand.
Q: How big are the behavioral health services Catholic Charities offers?
A: The demand for our behavioral health services increased tremendously throughout the pandemic. We are now doing much more video conferencing with our clients and that is working out very well for our counselors who can work remotely and still talk and treat parents and children. Our Msgr. Carr Institute, which houses our Clinical Services and Behavioral Health Services departments, represents 20% of our agency.
Q: Discuss your education and job training programs?
A: We are one of the largest providers of high school equivalency examinations through our workforce and education department at the former American Axle plant on East Delavan that was donated to us by its owners, Jon and Heather Williams of OSC, Inc. We are helping a lot of people obtain their education and skills so they can get ahead with their lives and not be reliant upon government support. The high school equivalency is needed for them to join the Northland Workforce Training, which we were instrumental in establishing. We are also able to offer financial literacy through a grant from M&T Bank and we are one of four immigration resettlement agencies in Western New York.
For more information, visit www.ccwny.org.