The season for playground fun has just begun
By Catherine Miller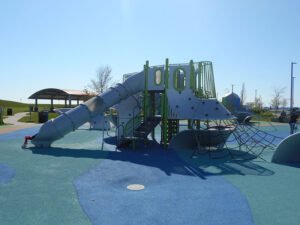 Sunny skies and warm weather are finally upon us and its time to get outdoors. Some of the best family open-air activities are located at the hundreds of playgrounds scattered throughout our region. Playgrounds are a great place to bring your children for exercise and social interaction. Best of all, they are free.
If you have a habit of bringing the little ones to your favorite neighborhood playground, why not travel out a bit and explore a new fun zone in Western New York?
BEST VIEW
Buffalo Harbor State Park Playground
1111 Fuhrmann Blvd., Buffalo
This nautical-themed playground built just a few years ago continues to beacon families from around the region. Built harborside with a beautiful water view and plenty of picnic areas, it is the ideal place for kids of all ages. With climbing walls, tunnel slides and swings spaced throughout the expansive play area, this play park can entertain scores of children without feeling congested. Add to that the curved walking paths that are speckled with walkers, bikers and rollerbladers and the whole area becomes the perfect picture of summer.
IDEALLY INCLUSIVE
Hamburg Community Playground
107 Prospect Ave., Hamburg
Billy Wilson Park
1290 Hopkins Road, Williamsville
Whether you live in the north or south towns, there is an inclusive playground not far off. Built to accommodate people of all abilities, these structures allow for ground-based fun with musical activities, rocking and swaying areas that are accessible for people with limited mobility with a variety of accessible socializing areas. These playgrounds include ziplines and challenging climbing areas as well as unique and easily accessed gliders and spinning features.
"I live south of Buffalo but started coming to the park during the beginning of the pandemic last year," said Jennifer Greenway, while visiting Billy Wilson Park. "Now we come here regularly. The boys love it and there is so much to do."
Aside from the playground area Billy Wilson Park boasts a variety of stroller-friendly walking trails. The Hamburg Community Playground is tucked in a residential setting with a walkable area to their main streets.
TRADITIONAL FUN
Allendale Elementary School
1399 Orchard Park Road
(And other school playgrounds!)
Let's face it, most elementary school areas have a playground or are playground-adjacent. These aren't the playgrounds of old with the heated metal slides that would burn the back of your legs and the swings that were built over treacherous cement landing strips. School playgrounds have upgraded to towering climbable structures with safely designed havens crafted to spur creativity and fun. The Allendale Elementary School's playground is a great example. With tall dueling spiral slides, ground-based musical equipment and a fossil-enhanced cavern, this schoolyard is easily transformed to a treasure island or a mountain adventure with just a bit of youthful imagination.
"We homeschool our kids and find it's important to keep them active on a regular basis," said Trevor Trethewey, father of Ian and Oliver. "We come to the Allendale playground a couple of times a week."
While Allendale is noted to be a favorite community play area, there are no nearby benches for the parents. So bringing a folding chair is wise. But once there, relax and watch the fun begin.
Venture out. Explore the new playgrounds or even some older ones that you may not have visited recently.
Check out county and town parks for more structures, bring a picnic lunch and a blanket and maybe plan a nature hike in the area. The season for playground fun has just begun.
CLIMBERS' PARADISE
Island Park
5577 Main St., Williamsville
Tucked behind Williamsville Town Hall and a few steps over a water-enhanced bridge is the Island Park Playground. This relatively new play area features an oversized web-like climbing area with additional arched, roped and wall-ready areas just waiting for your mini mountaineer. Swings and slides add to the fun and there are rentable picnic pavilions if you wish to make a day of it. While in the heart of Williamsville there is plenty of off-street public parking making this hidden gem very accessible.
Photo: Island Park in Williamsville.